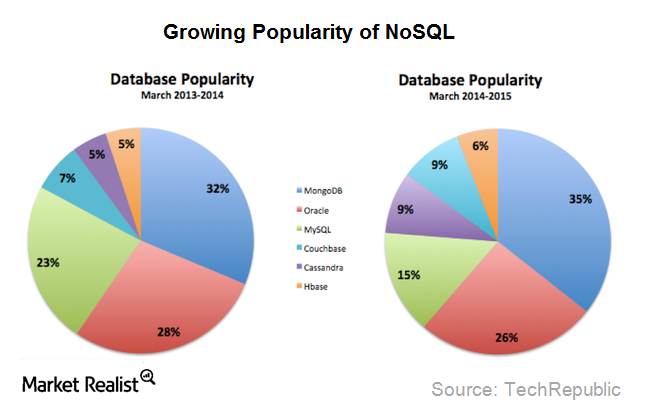 Open-Source Databases Pose a Threat to Oracle's Dominance
Open-source databases compete for Oracle's database market share
Oracle (ORCL) declared its fiscal 4Q15 and 2015 earnings results on June 17, 2015. The company missed another earnings target and blamed the strong dollar (UUP) for its performance. However, the growing preference for open-source technologies and databases also plays a crucial role in Oracle's recent struggles. Dan Wagner, CEO of Powa Technologies, notes that open-source databases "scale and operate extremely well, and they don't cost anything."
Article continues below advertisement
Article continues below advertisement
As noted in Matt Asay's March 4, 2015, TechRepublic article, NoSQL and Cassandra are two examples of open-source software. As the above pie chart shows, MongoDB dominates the database field, as measured exclusively by the volume of mentions it gets from social media and news articles. Asay adds, "Cassandra is a word used for a wide array of non-database-related topics and so is difficult to accurately filter." Oracle's position in the database remains roughly constant, although IBM's (IBM) DB2 is experiencing a decline.
The Cassandra database was developed by Facebook (FB) to handle its enormous volumes of data. The technology behind Cassandra was developed by Amazon (AMZN) and Google (GOOGL). Oracle's MySQL (ORCL), Microsoft's SQL Server (MSFT), and IBM's DB2 (IBM) are the primary traditional databases present in the market.
Startups prefer open-source technologies over Oracle
In June, Bloomberg conducted a survey of 20 startups valued at $1 billion or more, reporting, "None of the companies surveyed indicated they had a large Oracle database deployment for their main services though many used bits of Oracle software to run aspects of their organizations."
The survey showed that startups such as CloudFlare and Pinterest preferred open-source technologies, whereas DocuSign stated its business is built around Microsoft's (MSFT) SQL Server.