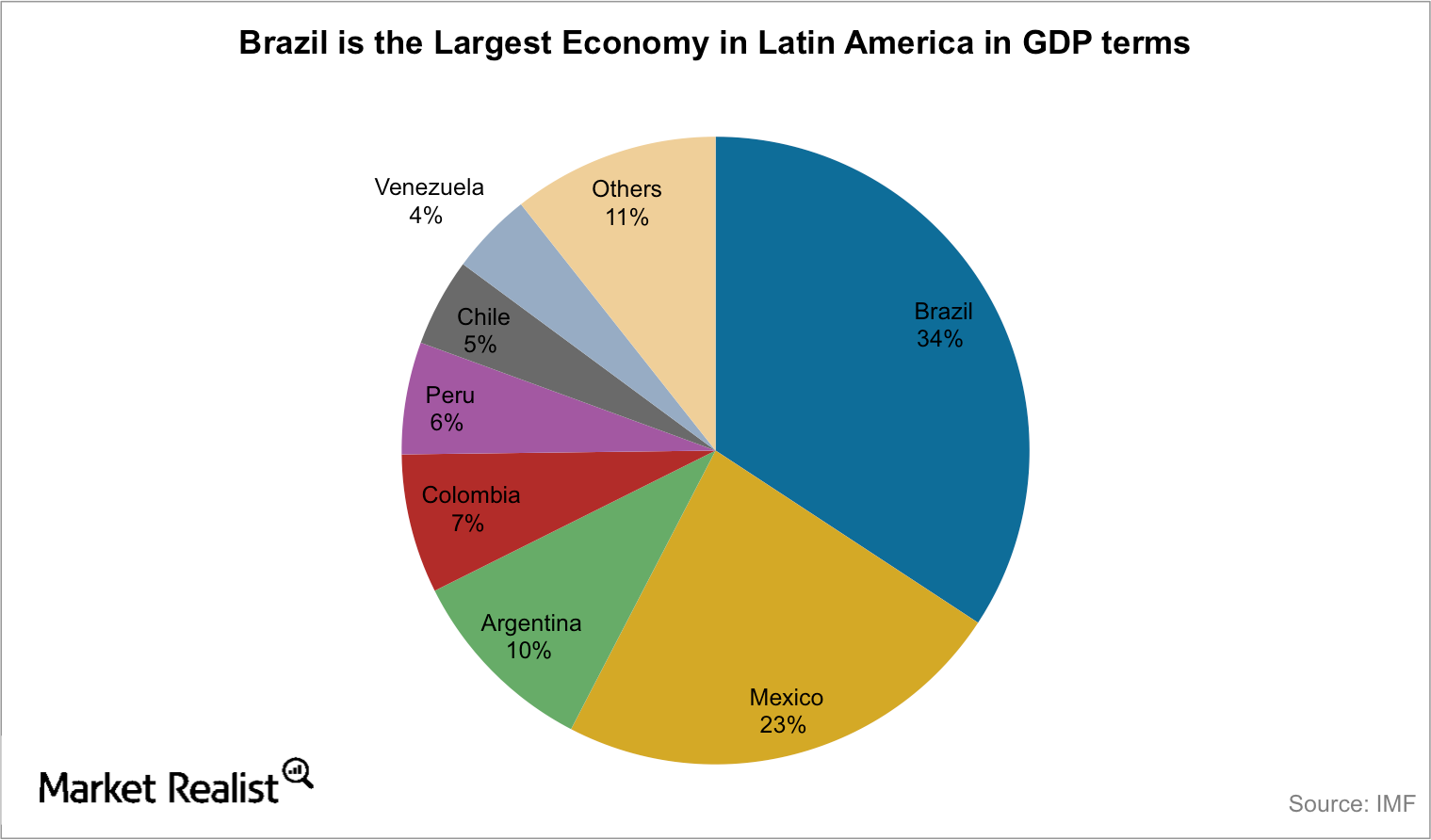 Why Latin American Economies May Be in Trouble
Latin American economies are in danger
2014 was very disappointing for Latin American economies, especially Brazil. After average annual growth of 4.2% from 2004 to 2013, the region's economies expanded only 1.3% in 2014. Worsening economic conditions in Brazil and Venezuela hit economic growth in Latin America in the first quarter of 2015. On average, the region's GDP declined by 0.18% in the first quarter of 2015. The region avoided a contraction in 1Q15 mainly due to expansion in Argentina, which grew by 1.1% while Brazil dragged down the region's growth as the economy contracted by 1.6%.
Meanwhile, analysts expect a disastrous contraction in Venezuela and believe the economy is spiraling into a deep crisis. The country hasn't released official GDP data since 3Q14, but in those three quarters of 2014, it has contracted by ~4.0%.
In 2014, the Brazilian economy grew by 0.1%—the worst performance of the leading Latin American economy since 2009. Brazil is the seventh-largest economy in the world and the largest in Latin America.
Article continues below advertisement
GDP forecasts are being downgraded
GDP forecasts are being downgraded for every single country. Economists expect Latin American economies to experience tepid economic growth this year as well. They expect the region to grow by a meager 0.5% in 2015, its worst performance since 2009. Consensus forecasts for Brazil's GDP have fallen to -1% for this year from 0.5% in late-February, with economists' forecasts declining by one-third for 2016 to 1.2%.
Meanwhile, Mexico's growth estimates were revised downwards to 2.6% from 2.7% and Chile's growth forecast was cut by 0.3% to 2.5%. In contrast, forecasts were raised for the economies of Argentina, Bolivia, and Ecuador.
Brazil ETFs fall
Brazil is the worst-performing BRICS economy this year, with the iShares MSCI Brazil Capped ETF (EWZ) falling 22.71%. Comparatively, the iShares MSCI Emerging Markets ETF (EEM) has lost 6.4% in 2015.
The Global X Brazil Financials ETF (BRAF) has plunged 21.84% year-to-date. Stocks that have lost the most value are:
PDG Realty SA: 60.28%
Even Construtora E Incorpora: 49.45%
Banco Estado Rio Gran-Pref B: 36.55%
Banking stocks like Banco Bradesco (BBD), Banco Santandar (SAN), and Itau Unibanco (ITUB) have lost 28.06%, 6.27%, and 27.62% year-to-date.
In the following parts of this series, we'll take a look at the performance of the financial sector in Latin America.