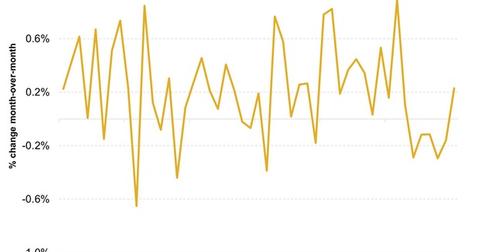 What Does Industrial Production Say about an Economy?
By David Ashworth

Updated
Industrial production
Industrial production—or in some cases, manufacturing production—provides important input about a nation's economic output, irrespective of its business cycle. Along with agriculture and services, industrial production forms the three major sectors of an economy.
In the past decade, several economies in the world have become services-oriented—the services sector has become the single largest contributor to economic output. However, this isn't to say that industrial production has been sidelined. Although its contribution to the overall economic output has reduced, its importance as a major economic sector hasn't diminished proportionately.
Article continues below advertisement
This can be seen in developing nations like India, where manufacturing is a key focus of the current government. It launched the "Make in India" campaign to provide a boost to the sector. Also, nations like China and Taiwan are globally known manufacturing hubs. Industrial output contributes significantly to their economies.
Why is industrial production important?
Manufacturing units and industries employ several thousands of people. As a result, they provide a substantial amount of employment. An uptick in industrial output, both for domestic consumption and exports, is a sign of a strengthening economy and the sectors that are placing orders for durable goods.
Central banks closely monitor changes in industrial production in order to look for signs of inflation as it appears in the industry with the supplies of materials narrowing.
Investors should note that this indicator is quite volatile. A sustained and sharp movement in either direction could indicate a change in the direction of the entire economy.
In the US, ETFs like the SPDR Industrial Select Sector Fund (XLI), the SPDR Dow Jones Industrial Average ETF (DIA), and the SPDR Utilities Select Sector Fund (XLU) closely monitor this indicator. Companies' stocks like 3M (MMM), Boeing (BA), and United Technologies (UTX) account for ~15% of XLI's portfolio.
After looking at industrial production, let's look at another indicator that's important for investors to monitor—the unemployment rate.