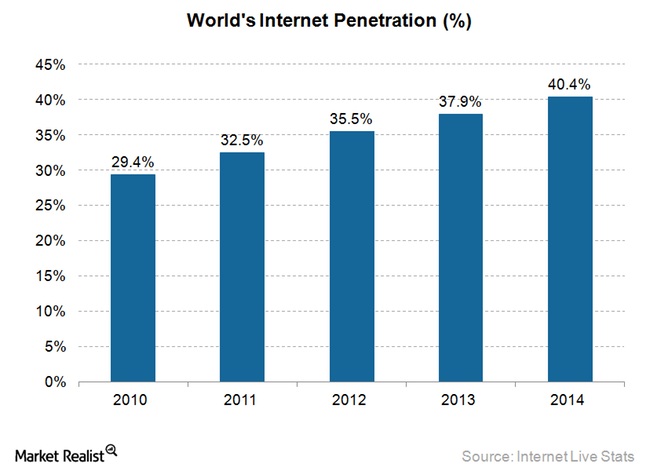 Facebook Determined to Make Money in Africa
Africa has only 120 million Facebook users
Facebook (FB) announced the launch of a new office in Johannesburg, South Africa, headed by Nunu Ntshingila, the chairperson of Ogilvy South Africa.
Facebook intends to expand its user base in the region with a population of over one billion. So far, the company has managed to reach out to ~120 million users.
Internet penetration is indeed quite low in developing markets such as Africa and Asia. According to Internet Live Stats, global Internet penetration has increased only slowly, from 29.4% in 2010 to 37.9% in 2013, and to an assumed 40.4% in July 2014. This means that more than half of the world's population is still without an Internet connection.
Article continues below advertisement
Internet.org and Facebook Lite
The new office is a part of Facebook's ongoing efforts to win over Africa in the next couple of years. It complements other initiatives such as Internet.org and the new Facebook Lite app.
Through Internet.org, Facebook offers various countries in the developing world a free app that enables users there to access certain websites and apps without any data charges. This gives users access to basic information and online services. Over the next ten years, Facebook intends to connect everyone in the world to the Internet through Internet.org.
In 2013, Facebook launched Internet.org in collaboration with six mobile phone companies:
Samsung Electronics
Ericsson (ERIC)
MediaTek
Nokia, now owned by Microsoft (MSFT)
Opera Software
Qualcomm (QCOM)
The Facebook Lite app is a scaled-down version of the app that works on lower-end phones.
On top of these initiatives, Facebook launched "missed call" ads in India (EPI) and Africa last year. By clicking on a FB ad, users receive a call from the advertiser that then takes on the cost of that call. With this, Facebook plans to attract local businesses to use its social network for advertising, connecting businesses with consumers.