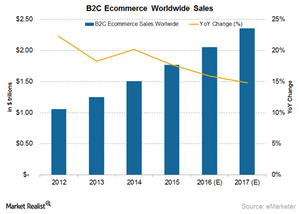 How Has E-Commerce Changed the Courier Services Industry?
E-commerce
E-commerce trade is one of the major drivers of the global courier service industry. The e-commerce trade primarily involves B2B businesses and online shopping. It is growing rapidly in the Asia-Pacific region. Moreover, the demand for B2C e-commerce trade is also increasing.
In the recent past, there has been a surge in the use of e-commerce across the globe. The impact of this new form of commerce has been felt in each and every industry, and retailers everywhere want to expand their operations to include online shopping. This new form of retail has brought in a new set of opportunities as well as challenges for the courier and delivery services companies.
Article continues below advertisement
Article continues below advertisement
Opportunities
The advent of technology has changed the way courier services work. Newer technologies and the increased reach of the Internet has led to greater transparency and advanced methodologies of tracking using online systems. The shipments can now be tracked online right from the moment they are ordered until they are collected and delivered.
The e-commerce market might not be as mighty as the traditional market, but it is growing at a much faster pace. It is expected to reach more than $1.5 trillion by the end of 2015. Such huge volumes of packages will require efficient and safe parcel delivery systems. This will create huge opportunities for parcel delivery service providers such as FedEx (FDX) and United Parcel Service (UPS) to diversify their revenue streams. UPS forms 3.59% of the Industrial Select Sector SPDR (XLI).
E-commerce growth will also be positive for online retail companies like Amazon (AMZN) and eBay (EBAY).
Challenges
However, along with huge volumes come higher costs, larger infrastructure, and pricing pressures. The surge in online orders and deliveries will require having a larger labor base that can meet shorter delivery deadlines. This would require companies to shift towards automation for repetitive processes such as weighing, measuring, and certifying parcels, printing and labeling boxes, and routing. This can help companies achieve higher efficiencies while reducing costs.
Another major challenge for the parcel delivery services companies is handling the payment on delivery and cash management. Even though the use of debit and credit cards for making online purchases has grown over the years, a major chunk of the payments are cash on delivery. Providing cash collection and handling requires more time to process payments. Thus, companies in the parcel industry are pushing for better online payment systems in order to reduce their cost burdens.