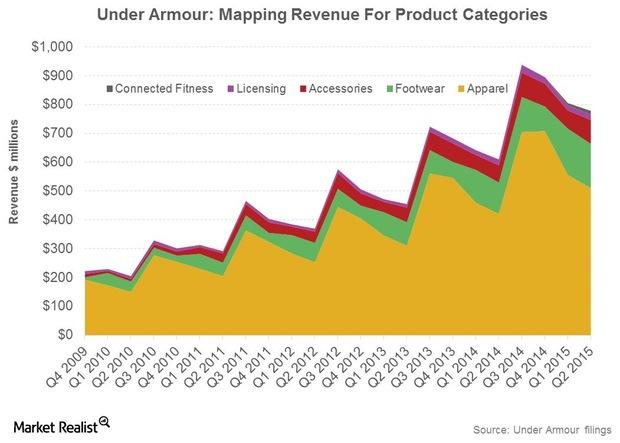 Under Armour's Fitness App Platform Is the World's Largest
Under Armour purchases connected fitness apps Endomondo and MyFitnessPal
Late last year and in early 2015, Under Armour acquired Endomondo and MyFitnessPal. Its fitness app user platform became the largest in the world, with ~140 million athletes. According to CEO Kevin Plank:
The platforms are growing at a rate of 30% year-over-year and adding registered users at a rate of ~100,000 daily.
~1 billion workouts and ~5 billion different types of food have been logged.
Article continues below advertisement
Growth potential
Wearable technology device sales are growing in leaps and bounds. Digital fitness devices command a 20% share of the overall sports instruments market. Sales of fitness trackers have grown over 100% to $71.7 million in the year ended January 31, 2015, from $27.2 million the previous year.[1.Source: The NPD Group]
Growth enablers
Under Armour's apps are versatile and can be downloaded on a number of fitness trackers, including Fitbit (FIT). Plus, the fitness app acquisitions fulfil other strategic goals for Under Armour, namely increasing the sale of women's products and growth in international markets.
Currently, most of Under Armour's sales stem from products designed for men. The company is looking at women's wear as a key growth opportunity. Under Armour derived about ~$0.5 billion in revenue from its women's products in 2013. The company plans to double this figure to ~$1 billion by 2016. Under Armour's digital community had an estimated 72 million women as of 1Q15. Nike (NKE) had a digital community of ~70 million women.
For more on the women's wear opportunity that sportswear firms are eyeing, read Is the Grass Greener on the Other Side of Sportswear?
International gains
Moreover, of Under Armour's total fitness app users, 43% were based outside of North America. As we explained earlier in this series, international markets are a key growth driver, with overseas sales growing at over thrice the rate for the overall company in 2Q15.
Also, more fitness enthusiasts would see increased consumer (XLY) demand for athlete-oriented products, boosting sales for Under Armour and its peers. While Nike, VF Corporation (VFC), Adidas (ADDYY), and Under Armour (UA) have a huge digital following, social interactions like Lululemon Athletica's (LULU) yoga classes and Nike's (NKE) Run Clubs fulfill a similar need.
NKE, VFC, and UA together constitute ~4.6% of the portfolio holdings in the Consumer Discretionary Select Sector SPDR Fund (XLY).