Alpha Natural Resources May Be Preparing for Bankruptcy
On July 15, 2015, the Wall Street Journal reported that "Alpha Natural Resources Inc. is in talks to obtain financing for potential bankruptcy."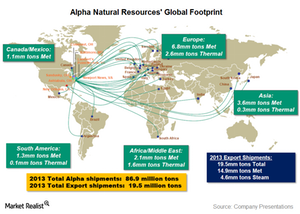 Bankruptcy bells are ringing
On July 15, 2015, the day Walter Energy announced bankruptcy, the Wall Street Journal reported that "Alpha Natural Resources Inc. is in talks to obtain financing for potential bankruptcy filing early next month." According to the journal, the company is seeking a loan from its creditors to continue its operations during bankruptcy.
We've been discussing the possibility of Alpha Natural Resources' (ANRZ) bankruptcy since October 2014. In our series Industry Overview: The shifting sands of US coal production that we published that month, we highlighted that Alpha Natural Resources (ANRZ) is the second riskiest bet in the coal sector after Walter Energy. So this update shouldn't be news for our regular readers. You can subscribe to our newsletter for regular updates.
Article continues below advertisement
Article continues below advertisement
About Alpha Natural Resources
Alpha Natural Resources (ANRZ) is the biggest met coal producer and exporter in the United States. The company is the third-biggest met coal producer and exporter in the world, behind Australian producers including BHP Billiton Limited (BHP). Consol Energy (CNX) and Rio Tinto (RIO) are diversified competitors of ANRZ. While Alpha Natural Resources earns almost all of its revenues from coal and related services, Consol Energy diversified into natural gas production in 2011. Rio Tinto is a major mining company producing metals and commodities like iron ore and coal.
Apart from met coal, Alpha Natural Resources produces thermal coal from its mines in Appalachia and the Powder River Basin. With revenues of $4.3 billion in fiscal 2014, Alpha Natural Resources is the second-biggest US coal producer (KOL), behind Peabody Energy Corporation (BTU).
In the next part of this series, we'll look at the company's stock market performance.