Alcoa Continues to Sag as Aluminum Prices Fall Further
Aluminum prices have been in a downtrend for more than a month.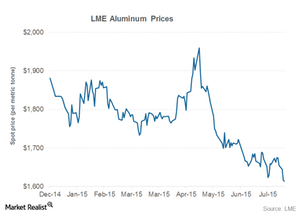 Aluminum prices
Spot aluminum was quoted at $1,615 per metric ton on July 22 on the LME (London Metals Exchange). In our previous series, we had noted that the possibility of a further decline in aluminum prices looks dim.
However, at this juncture, bears seem to enjoy anything with a China (FXI) (MCHI) connection. China is the biggest consumer of almost all metals. As it enters a prolonged slowdown, metal shares continue to sag.
Article continues below advertisement
Article continues below advertisement
Prices in downtrend
The above chart shows the trend in spot LME aluminum prices. As you can see, prices have been in a downtrend for more than a month. The revenues of aluminum producers like Alcoa (AA) and Century Aluminum (CENX) are tied to the LME aluminum prices. The decline in aluminum prices is bound to hit the earnings of these companies.
For example, Alcoa estimates that its net earnings fall by $190 million for every $100-per-ton fall in aluminum prices. Spot aluminum prices have fallen more than $200 per ton since the start of 2015.
Other base metals also continue to trend southward. Copper is trading near its six-year low while seaborne iron ore prices are hovering around their decade low. Lower metal prices would negatively impact the earnings of companies like BHP Billiton (BHP) and Rio Tinto (RIO).
Earnings hit
Lower aluminum prices dented Alcoa's 2Q15 earnings. Alcoa's realized aluminum prices—which include aluminum prices as well as physical premiums—declined considerably in the quarter. We'll explore the recent trend in physical aluminum premiums later in this series. But first, let's see how forward aluminum prices are playing out.