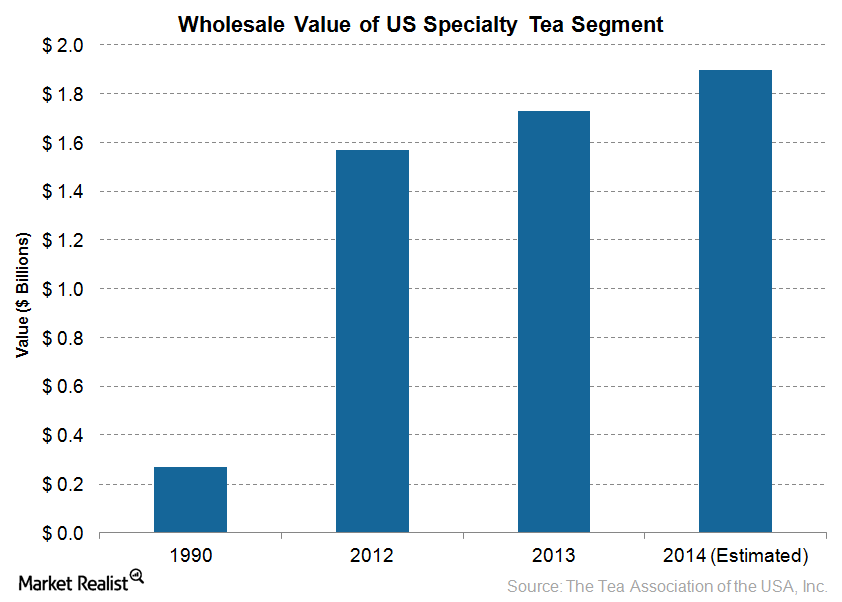 What's So Special About Specialty Tea?
Specialty tea
The May 2015 World Tea Expo focused specifically on the specialty or premium tea segment. According to the Specialty Tea Institute, the definition of specialty tea differs across countries. For instance, green tea might be considered a specialty tea in the US, but not in Japan, where green tea accounts for the majority of tea consumption. Generally, specialty or premium tea is used to define tea of high quality. Flavored teas such as Earl Grey, scented teas such as Jasmine, and spiced teas also come under the specialty tea category.
According to the Tea Association of the USA, the specialty tea segment's wholesale value increased to an estimated $1.9 billion in 2014, up 9.8% from 2013.
Stash Tea Company and Teavana are some prominent names in the specialty tea segment. Starbucks (SBUX) acquired Teavana in 2012. Unilever (UL) expanded in the premium tea category through the September 2013 acquisition of T2, a premium Australian tea business.
Article continues below advertisement
Coca-Cola's (KO) Honest Tea brand is also a premium brand. In September 2014, Coca-Cola announced that Honest Tea will be available in K-Cup packs for the Keurig hot brewers as part of its deal with Keurig Green Mountain (GMCR). Coca-Cola makes up ~9.0% of the portfolio holdings of the Consumer Staples Select Sector SPDR Fund (XLP).
Premium prices
According to a conference at the World Tea Expo, Growing Tea Commercially in the USA by Nigel Melican, the production of specialty tea costs $10 per pound compared to $0.75 per pound for traditional tea. The quality and production costs involved enable the specialty tea grower to price the product at a minimum of $15 per pound compared to $1.13 per pound for traditional tea. Those manufacturing top grades of specialty tea can look for prices in the range of $59 to $90 per pound.
Favorable factors for specialty tea growth
Specialty tea is attracting affluent, young, educated and health conscious consumers who like to experiment with unique and organic flavors. Also the profitability involved in specialty categories will attract more manufacturers. The number of restaurants serving specialty tea and the number of tea salons have also been increasing over the years.
For more updates, visit our Nonalcoholic Beverages page.