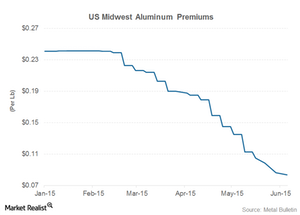 US Midwest Aluminum Premiums Are Still Caught in a Downtrend
US Midwest aluminum premiums
In the previous part, we discussed how aluminum prices have fallen over the last month. However, aluminum premiums have been on a downtrend since the start of the current year. Year-to-date, aluminum prices have lost ~9%, while physical aluminum premiums in the US have lost almost 60%.
Article continues below advertisement
Premiums decline
The aluminum premium is a surcharge that aluminum consumers must pay on top of the prevailing prices to take the delivery of metal from the warehouses. Aluminum premiums more than doubled in 2014. However, the cycle has turned upside down for aluminum premiums, as the above chart shows.
Higher aluminum premiums helped Alcoa (AA) post record profits last year. Alcoa currently forms 2.53% of the Materials Select Sector SPDR ETF (XLB) and 0.86% of the iShares North American Natural Resources ETF (IGE).
All-in aluminum price
The all-in aluminum price consists of the LME (or London Metals Exchange) aluminum price and the regional premiums. Noranda Aluminum (NOR) had earlier expressed hope that aluminum premiums might increase so that the all-in aluminum prices do not decline much.
However, aluminum premiums have fallen at an even faster pace as compared to aluminum prices. Lower aluminum premiums will hurt the earnings of primary producers like Rio Tinto (RIO) and Century Aluminum (CENX).
As per Platts, regional aluminum premiums have fallen below $100 per ton in Japan, which is the lowest level in the last six years. Aluminum premiums in Europe, however, seem to have bottomed out at around $100 per ton.
As per Alcoa, aluminum premiums offer a much clearer reflection of aluminum market dynamics than the LME aluminum prices.
One thing that has been driving physical premiums lower is the higher quantum of aluminum exports from China. In the next part, we'll explore how much aluminum China exported in May.