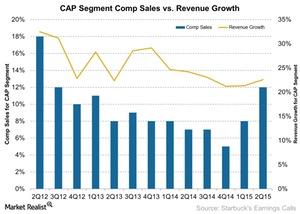 Starbucks Makes China Another Feather in Its Cap in 2015
By Adam Jones

Updated
Starbucks in China
China is the biggest market for Starbucks outside the US and is the leading market in the CAP (China, Asia-Pacific) segment. Starbucks plans to begin increasing comps (comparable same-store sales) growth while it maintains a focus on unit growth in China.
Most recently, CAP comps growth jumped to 8% in 1Q15 and to 12% in 2Q15. During the company's earnings call, management stated that comps growth in the CAP region was driven by higher traffic, but it didn't say why this was particularly the case in China.
Article continues below advertisement
The China story
From the beginning of Starbucks's 1Q15 in October 2014 until now, the Chinese (Shanghai) stock market has rallied by ~115%. At the time of writing, it's at its highest level since 2008. Over the past nine months (ending April 2015), the China consumer confidence also rose to a high of 109.8 in February, from a low of 103.4 in October 2014.
The lift in the Shanghai exchange and increased consumer confidence could be the reason why Starbucks traffic in this country grew so much in the first two quarters of fiscal 2015.
China could be a surprising win
In 4Q14, the company announced the Starbucks for Life promotional campaign. It used social media to promote the campaign and accelerate traffic growth in China.
There's also strong acceptance of the Starbucks loyalty program in China, with 40% of transactions completed using the Starbucks card. These strategies seem to be paying off for Starbucks.
According to IDC (International Data Corporation), China had 885 million mobile users as of December 2014. Of these, 80% were smartphone users. Starbucks has been leveraging its mobile ecosystem in China so that it can implement one-to-one marketing and its Mobile Order & Pay service and scale up its sales there.
In the second half of 2012, the company ramped up its unit growth, noting that the low penetration in the country represented "massive potential."
Yum! Brands (YUM) is another company that has a significant presence in China. Recently, hedge fund Third Point added YUM to its portfolio, citing increased optimism that China has moved on from its recent supplier fiasco.
Positive developments for these companies would benefit the Consumer Discretionary Select Sector SPDR Fund (XLY). XLY invests 3% of its holdings in Starbucks (SBUX), 4% in Mcdonald's (MCD), 1% in Chipotle Mexican Grill (CMG), and 1.5% in Yum! Brands (YUM).
How do the successes in the Americas and in China add up for investors? Read on.