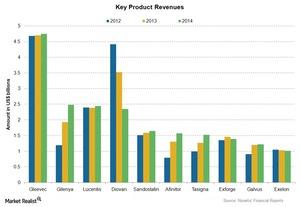 Which Products Contribute the Most to Novartis's Revenues?
Article continues below advertisement
Products affecting Novartis's revenues
Novartis AG (NVS) has recorded direct product sales of over $1 billion for each of its nine Pharmaceutical products in 2015. These products include Gleevec, Gilenya, Lucentis, Tasigna, Sandostatin, Afinitor, Diovan, Galvus, and Exforge.
These nine highly valued pharmaceutical products have contributed over 58% of total revenues of the Pharmaceuticals division in 2015. The chart shows the change in revenues for each of the nine key products.
Products at a glance
Gleevec, Sandostatin, Afinitor, and Tasigna are among the top-selling drugs in the oncology division, which treats various forms of cancer. Gleevec/Glivec (imatinib mesylate/imatinib) is a kinase inhibitor approved to treat patients with chronic myeloid leukemia (or CML), a type of cancer. Inhibitors block actions by the kinase, an enzyme. Gleevec was launched in 2001 and is sold in over 120 countries. Sandostatin is used for acromegaly, Afinitor for breast cancer, and Tasigna for CML.
Article continues below advertisement
Diovan, Galvus, and Exforge are top-selling medicines from the primary care segment of the pharmaceuticals division. Diovan (valsartan) is one of the top-selling branded anti-hypertensive medications worldwide. Diovan is the only agent in its class approved to treat all of the following: patients with high blood pressure, high-risk heart attack survivors, and patients with heart failure. Diovan was launched in 1996 and is available in more than 120 countries for treating high blood pressure. Galvus is used to treat diabetes while Exforge is used for hypertension.
Gilenya is one of the top-selling drugs from the neuroscience franchise. Gilenya is used for the treatment of relapsing multiple sclerosis. Exelon, another drug from the Neuroscience franchise used for treating Alzheimer's disease, lost its market share to generic competition in the US and European markets in 2015. Gilenya competes with Biogen's (BIIB) Tecfidera and Sanofi's (SNY) Aubagio.
Lucentis, one of the top-selling drugs, belongs to the ophthalmics segment and is used for treating age-related macular degeneration, a condition that leads to vision loss.
Novartis has acquired GlaxoSmithKline's (GSK) oncology products and certain related assets. The company has also been granted rights of first negotiation over the co-development or commercialization of GSK's current and future oncology research and development pipeline, excluding the oncology vaccines.
Investors can consider ETFs like the VanEck Vectors Pharmaceutical ETF (PPH), which holds 5.5% of its total assets in Novartis.