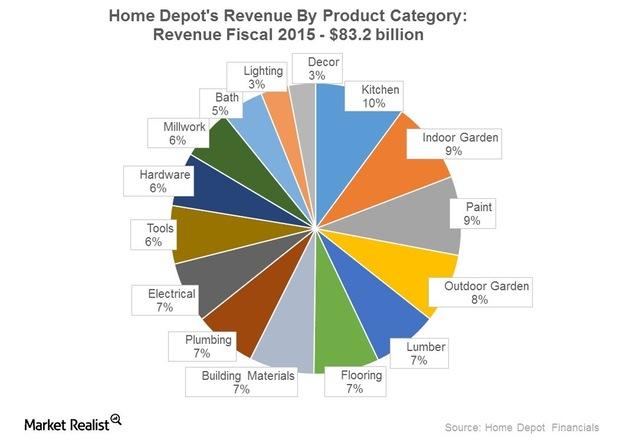 Key Risks and Opportunities for Home Depot's Multichannel Model
Home Depot's omnichannel update for analysts
Kevin Hofmann, senior vice president and president of the online business of The Home Depot (HD), recently provided an update to analysts at the Goldman Sachs dotCommerce Day 2015. Hofmann discussed the key challenges and risks that HD's online channel could face going forward.
Article continues below advertisement
Key threats to HD's online model
Several prominent national brands are vendors for The Home Depot (HD). There's a risk involved in vendors "going direct," possibly selling the same products at lower prices.
Hofmann believes HD can overcome this disadvantage by becoming the first distribution choice for its vendor partners. This would happen primarily through competitive costing, great customer service, and aligned interests. It would reduce the incentive for vendors to go direct.
The company also believes in educating the less wired up vendors about the inherent opportunities in e-commerce. This will lead to higher sales, resulting in a win-win for both parties.
HD also faces competition from other home improvement and big-box chains like Lowe's (LOW) and Walmart (WMT). Unlike HD, LOW and WMT are expanding their store footprints and investing considerably in their own omnichannel capabilities. Lowe's is also looking at smaller store formats to capture the urban opportunity. However, the product assortment in these stores is more limited.
Shopping patterns for Millennials
The home ownership rate for Millennials is lower than the rate for older customers (XRT) (XLY). Home ownership still tends to be an aspirational goal for this demographic. This represents both a headwind and a long-term opportunity when Millennials see higher incomes and home ownership rates rise.
Millennials' idea of home improvement varies significantly compared to HD's existing customers, according to Hofmann. Millennials are more likely to shop online and are more décor oriented versus home improvement oriented. They also fall more in the do-it-for-me (or DIFM) category rather than the do-it-yourself (or DIY) segment.
These factors may help HD provide more value-added services to them in the future.
For more sector updates and analyses, be sure to visit our Consumer and Retail page.