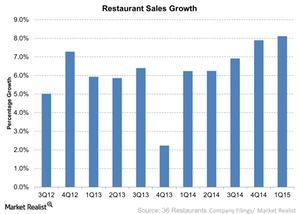 Factors That Influence the Restaurant Industry
By Adam Jones

Updated
Restaurant industry
In the first half of 2015, the restaurant industry experienced a good run. But as the second half approaches, investors need to be cautious for several reasons that were outlined in our series, Key Takeaways from April's Restaurant Performance Index.
Article continues below advertisement
Growth in the sector
Over the past 12 months, the restaurant industry has experienced significant sales growth. According to the National Restaurant Association, sales in this industry are poised to grow to $709 billion by 2015. In this series, we'll look at some of the factors that affect restaurant sales, and why investors should track certain indicators.
In terms of market capitalization, the four biggest chain restaurants in the US are McDonald's (MCD), Yum! Brands (YUM), Starbucks (SBUX), and Chipotle Mexican Grill (CMG). Together, these companies make up for about 9.8% of the Consumer Discretionary Select Sector SPDR Fund (XLY).
Indicators that influence restaurant stocks
Whether people eat out depends to a great extent on the economic cycle. When the economy is doing well and there are jobs, people are more likely to have the money to spend on a meal out at a restaurant. Otherwise, they tend to cook at home.
In terms of the consumer discretionary sector, a retail sales indicator such as the Johnson Redbook Index provides a good indication of how well the economy is doing.
Labor market conditions are also an important indicator to watch. Investors can track these conditions by referring to jobless claims and ADP employment data.
Gallup's consumer spending measure and fuel prices are two other indicators that influence restaurant stocks.
With the help of all of these indicators, we can gauge the economic environment in which the US restaurant industry is operating. In the next part of this series, we'll discuss retail sales—one of the most important indicators for understanding spending patterns and how they affect the restaurant industry.