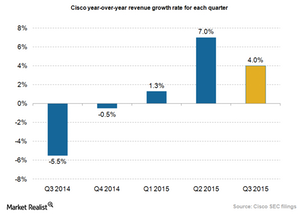 Can Cisco Beat Its Own Revenue Forecast in Fiscal 3Q15?
Cisco's revenues could grow by ~4% in fiscal 3Q15
Cisco Systems (CSCO) is expected to announce its fiscal 3Q15 earnings on May 13. According to Cisco's own forecast, it expects its year-over-year (or YoY) revenue growth to be 3%–5% in the quarter. This is decent growth, considering that Cisco's average YoY revenue growth in the last four quarters has been less than 1%. As the chart below shows, Cisco's revenue growth rate has steadily increased over the last few quarters.
Article continues below advertisement
Cisco provided better-than-expected earnings in fiscal 2Q15. Cisco's revenues of $11.9 billion beat consensus estimates of $11.7 billion, while its non-GAAP (generally accepted accounting principles) earnings per share of $0.53 per share were better than analysts' estimates of $0.52 per share in fiscal 2Q15. Plus, Cisco announced an increase in its dividend payout to $0.21 per quarter, up from $0.19 in fiscal 2Q15.
Currency headwinds could impact Cisco
The most important factor that will decide whether Cisco meets its revenue estimates in fiscal 3Q15 will be the currency impact. The dollar (UUP) has been rather strong over the last few months, which will likely hurt Cisco as the company earns about half of its revenues from outside the US.
Cisco earns about 50% of its revenues from the United States, 26% of its revenues from EMEA (Europe, the Middle East, and Africa), 15% from APCJ (Asia-Pacific, China, and Japan), and the rest from Latin America.
The overall tech sector has been hurt extensively by these currency issues. Facebook (FB) announced its earnings on April 22 and noted that currency headwinds had a negative impact of 7% on its revenue growth. Similarly, Amazon (AMZN) also announced its earnings on April 23, noting that currency issues impacted its YoY revenue growth by 7%.
Even LinkedIn (LNKD), which announced its earnings last week, also lowered its forecast for the rest of the year, citing the strong dollar as a major factor. Investors pushed LinkedIn stock down by 20% following its earnings release.