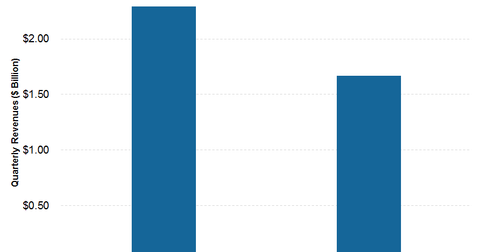 Targa Resources Partners Announces 1Q15 Earnings
By Keisha Bandz

Updated
1Q15 results
Targa Resources Partners (NGLS) announced its 1Q15 earnings on May 5. NGLS is an MLP formed by Targa Resources (TRGP).
Article continues below advertisement
Targa's revenues
Targa's revenues for the first quarter of 2015 declined by ~27% to $1.67 billion, compared to $2.29 billion for the same quarter of 2014.
According to the earnings release, revenues declined as a result of lower commodity prices. However, they were offset partially by higher commodity volumes, higher fee-based revenues, and favorable hedge settlements. Revenues for 1Q15 also benefited from the inclusion of one month of operations after its merger with Atlas Pipeline Partners. We'll talk about this merger later in this series.
Net income
Net income for 1Q15 was $71.6 million compared to $122.4 million in 1Q14. Net income per limited partner unit or EPS (earnings per share) was $0.21 in 1Q15 compared to $0.78 in 1Q14.
Article continues below advertisement
Distributable cash flow
Distributable cash flow (or DCF) is the amount of cash left over for an MLP to distribute to its unitholders or shareholders.
DCF for the reported quarter was $190.9 million. Pro forma DCF, including the full contribution in the quarter from the Atlas Pipeline Partners merger, was $227.7 million. This compares to a DCF of $191.6 million in 1Q14.
Distribution
In a press release, Targa Resources Partners announced a cash distribution of $0.82 per unit, or $3.28 annualized for 1Q15. This is 1% higher than the 4Q14 cash distribution and 8% higher than the distribution for 1Q14.
The cash distribution will be paid on May 15, 2015. Total distributions paid will amount to $193.9 million, representing a distribution coverage ratio of approximately 1.2x.
The distribution coverage ratio is the DCF divided by actual distributions.
Article continues below advertisement
Let's compare NGLS's distribution to its peers. ONEOK Partners (OKS) declared 1Q15 distributions of $0.79 per unit, or $3.16 on an annualized basis. Enbridge Energy Partners (EEP) declared a distribution of $0.57, or $2.28 annualized per unit, for the same period. NGLS, OKS, and EEP make up 14% of the Alerian MLP ETF (AMLP).
Company background
Targa Resources Partners (NGLS) engages in natural gas gathering, processing, and treating. It also provides crude oil gathering and crude oil and petroleum product terminaling services. It engages in the business of storing, fractionating, treating, transporting, terminaling, and selling natural gas liquids and natural gas liquid products.