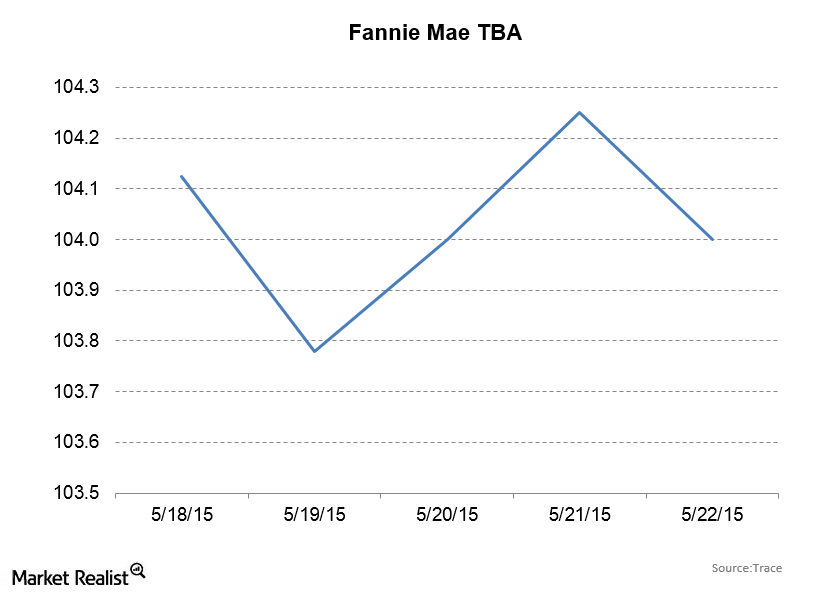 REIT Outlook: Fannie Mae Securities Close at 104 1/32
Fannie Mae and the to-be-announced market
When the Federal Reserve talks about buying MBS (mortgage-backed securities), it's referring to the TBA (to-be-announced) market. The TBA market allows loan originators to take individual loans and turn them into a homogeneous product they can trade. TBAs settle once a month.
Fannie Mae loans go into Fannie Mae securities. TBAs are broken out by coupon rate and settlement date. In the chart above, we see Fannie Mae's 3.5% coupon for June delivery.
Article continues below advertisement
TBAs sell off along with the bond market
Fannie Mae TBAs started the week at 104 15/32 and gave up 7/16 to close at 104 1/32. The ten-year bond yield increased by 7 basis points.
Implications for mortgage REITs 
Mortgage REITs and ETFs, including Annaly Capital (NLY), American Capital Agency (AGNC), and MFA Financial (MFA), are the biggest non–central bank holders of TBAs. They use the TBA market as a vehicle to quickly increase and decrease exposure to MBS. TBAs are highly liquid and much easier to trade than a portfolio of older existing MBS. Non-agency REITs like Two Harbors (TWO) are less likely to trade TBAs.
In general, you can consider mortgage REITs among the biggest lenders in the mortgage market. When TBAs rally, mortgage REITs see capital gains. These gains increase TBA returns—especially when added to their interest income.
You should take care, however, because REITs use leverage and volatility in interest rates can work against them. We saw American Capital Agency report recently. Its book value per share only increased by a small amount despite a huge rally in bonds in the fourth quarter. Similarly, we saw Annaly Capital Management make few adjustments to its investment portfolio.
Investors interested in trading the mortgage REIT sector via an ETF should look at the iShares Mortgage Real Estate Fund (REM). Investors interested in making directional bets on interest rates should look at the iShares 20+ Year Treasury Bond ETF (TLT).