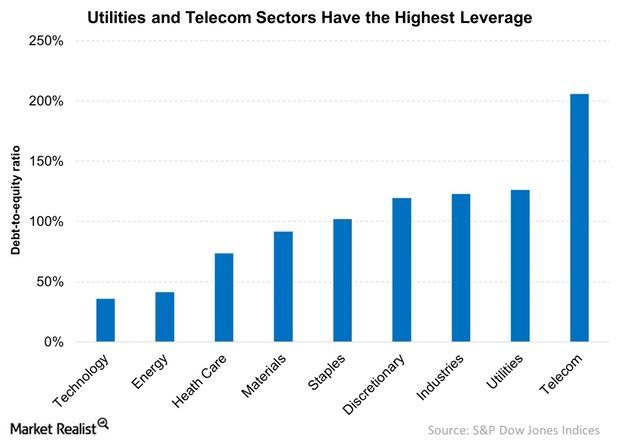 How a Rate Hike Could Affect High-Leverage Sectors
But some defensive sectors, like utilities and telecom, are also capital intensive and carry enormous levels of debt. When interest rates rise due to a healthier economy, these defensive companies come under more pressure because of increased borrowing costs. This can erode profitability and eventually depress their stock prices.
Article continues below advertisement
Market Realist – High-leverage sectors could see increased borrowing costs as interest rates rise.
Debt-to-equity ratio is a measure of a firm's financial leverage. It is calculated by dividing its total liabilities by total shareholder equity. It indicates the proportion of equity and debt the company is using to finance its assets. A high ratio generally means that a company has been aggressive in financing its growth with debt. While higher leverage can magnify earnings, it can put a squeeze on margins as interest rates rise.
The graph above compares debt as a percentage of equity for different sectors within the S&P 500 (IVV). Technology (XLK), energy (IYE), and healthcare (XLV) have the least leverage. Hence, higher interest rates would not put much pressure on the earnings of these sectors. Mature tech companies, in particular, have much less debt on their books, which gives them an added advantage.
However, industrials, utilities (XLU), and telecommunications have much higher leverage, as these sectors have massive capital needs, as mentioned above. Utilities are often called bond proxies due to their sensitivity to interest rates.
The industrials perform well when interest rates rise, as it usually means that the economy is improving. Because their earning potential increases, they usually have enough to tide over the higher borrowing costs that are caused by higher interest rates. The same can't be said about utilities. Steady, but slow, earnings growth means that their margins are squeezed as interest rates rise.