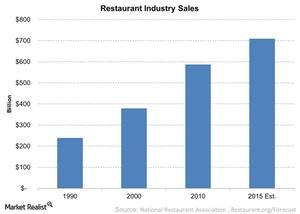 Key Indicators for Restaurant Industry Growth
<p>Restaurant industry sales have experienced growth in the past 12 months. Sales are poised to grow to $709 billion.</p>
The US restaurant industry
The biggest players in the US restaurant industry include McDonald's (MCD), Yum! Brands (YUM), Starbucks (SBUX), and Chipotle Mexican Grill (CMG), which competes with Qdoba (JACK). These are the top four restaurant chains in terms of market capitalization. Together, they make up about 9.8% of the consumer discretionary sector ETF (XLY). XLY also holds 0.3% of popular casual dining restaurant operator Darden Restaurants (DRI).
Article continues below advertisement
Article continues below advertisement
Restaurant industry sales
Restaurant industry sales have experienced growth in the past 12 months. As you can see in the above chart, restaurant sales are poised to grow to $709 billion. In this series, we'll look at some of the indicators that impact restaurant sales. These are indicators investors should track.
Key restaurant indicators
Choosing to eat at a restaurant is greatly dependent on the economic cycle. In other words, when the economy is doing well and people have jobs, consumers have more money to spend at restaurants rather than at the grocery store to cook at home. A good indicator of an economy that's doing well is retail sales indicators such as ICSC- (International Council of Shopping Centers) Goldman, Johnson Redbook, and retail sales data collected by the United States Census Bureau. Another indicator investors should watch is labor market conditions, or job openings in the United States.
In this series, we'll be looking at consumer sentiment toward the economy and how the price of fuel is benefiting restaurant stocks. In the next part of this series, we'll look at retail sales, one of the most important indicators to help us understand the spending pattern of the restaurant industry.