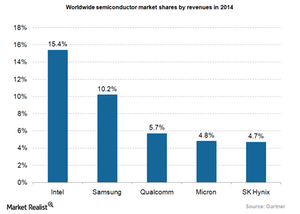 Intel Leads Semiconductor Industry with 15% Market Share
<p>Despite semiconductor companies combining to become bigger, Intel continues to lead this market with a 15.4% share in the worldwide semiconductor market in 2014.</p>
Intel has more than 15% share in semiconductor market
So far in this series, we've looked at Avago's (AVGO) acquisition of Broadcom (BRCM) and other consolidations in the semiconductor industry. One major acquisition was Freescale Semiconductor's (FSL) purchase of NXP Semiconductors (NXPI) in March 2015 for $11.8 billion.
However, despite semiconductor companies combining to become bigger, Intel (INTC) continues to lead this market. According to a Gartner press release on April 7 and as the above chart shows, Intel had a 15.4% share in the worldwide semiconductor market in 2014. Samsung, Qualcomm (QCOM), Micron (MU), and SK Hynix are the other four top players in this market.
Article continues below advertisement
Article continues below advertisement
Strong memory market growth drives semiconductor industry
Overall, the semiconductor market grew by a healthy 7.9% year-over-year in 2014. Gartner credited this growth to the strong performance of the memory market, the best performer for the second consecutive year. The overall memory market grew 16.6% year-over-year, which is why Micron's revenues increased 37% in 2014. Intel achieved year-over-year revenue growth of 7.7%, primarily driven by the reviving PC (personal computer) market.
If you're bullish about Intel, you can invest in the VanEck Vectors Semiconductor ETF (SMH). SMH invests 19.4% of its holdings in Intel.