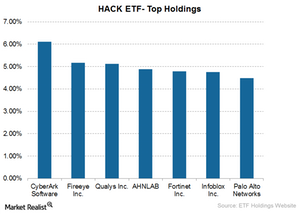 The ISE Cyber Security ETF (HACK) Provides Hefty Returns
By Adam Rogers

Updated
The need for cyber security
As mentioned in the previous article, the ISE Cyber Security ETF (HACK) has been giving investors substantial returns on investment. This ETF tracks the companies involved in the cyber security space, which is a highly volatile segment. However, as the number of cyber attacks rises, firms that conduct their business digitally will increase spending on digital security.
Leading cyber security firm McAfee states that "cyber-warfare and espionage attacks" will increase in the next few years due to a substantial growth in the number of connected objects used. As per research firm Gartner, the spending in cyber security will increase from $71.1 billion in 2014 to $76.9 billion in 2015.
The cyber security space is thus considered to be one of the fastest growing segments in the technology space.
HACK's portfolio consists of "high return" stocks
The HACK ETF mainly comprises of top-rated stocks like Palo Alto Networks (PANW), CyberArk Software (CYBR), as well as Qualys (QLYS) that constitute approximately 16% of its total portfolio. The EPS for CYBR increased by 200% in the last quarter, while it is expected to grow by 400% in the next quarter.
As these firms are expected to see triple-digit earnings growth in the next quarters, as per analysts, HACK will benefit by holding the stocks in its portfolio. The assets under management for HACK are $655.8 million and have grown over six times since its inception.
HACK gives investors a platform in which to enter this niche, high growth segment. It also provides investors with first mover advantage. In comparison to XLK, which provides an exposure to mainly large-cap stocks, HACK provides exposure to equities in the small-cap segment.
The next article in the series will discuss the structural differences between XLK and HACK.