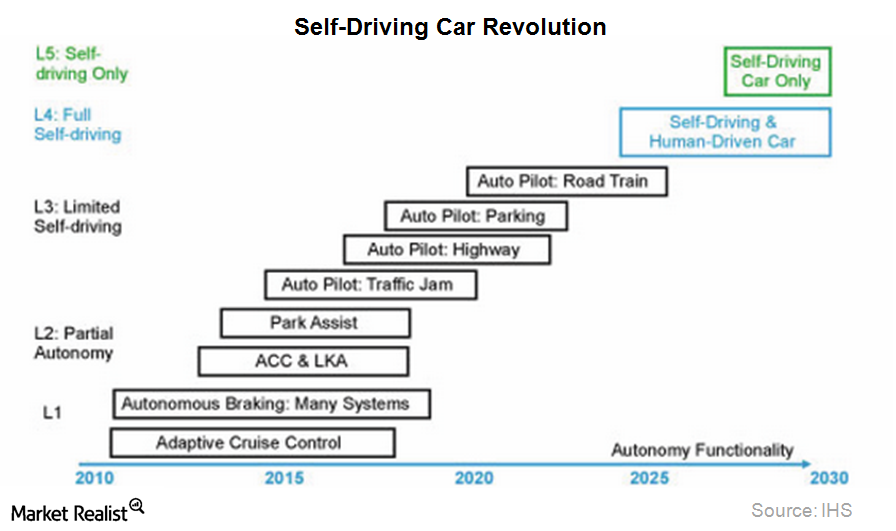 Google Could Put Self-Driving Cars on the Roads by Summer 2015
<p>With a fleet of almost 20 self-driving cars, Google now averages ~10,000 self-driving miles per week. Google claims that its cars have 75 years of US adult driving experience.</p>
Google's self-driving cars will hit the roads by summer 2015
On May 21, 2015, Nvidia (NVDA) started shipping Drive PX, its hardware and software development kit, to leading luxury car manufacturers including Bentley, Aston Martin, Tesla (TSLA), and Rolls-Royce.
Google (GOOG), which has been in this space for the last six years, will be putting its self-driving cars on public roads by as early as summer 2015. Tech giants report that Google, with a fleet of almost 20 self-driving cars, now averages ~10,000 self-driving miles per week. Google claims that its cars have 75 years of US adult driving experience if its test-run miles are taken into account.
The graphic above shows the result of a study done on autonomous cars by IHS Automotive Consulting and Advisory Services.
Article continues below advertisement
Article continues below advertisement
North America is expected to lead self-driving cars sales
According to the IHS study, North America will account for 29% of global sales of SDCs (self-driving cars) in 2035. This would include level-4 SDCs, which also permit human control, and level-5 SDCs, self-driving-only cars. North America is supposed to be followed by China (FXI) with 24% share of sales, or over 2.8 million units. Western Europe is projected to account for 20% of sales, or 2.4 million vehicles.
Google reveals its accident statistics
Sometime ago, Google revealed its accident data to prove that its self-driving cars are safe on the road. The company stated that its cars had been involved in 11 "minor" accidents, with no injuries, during its six years in the space. Naturally, the company stated that the accidents weren't the fault of its cars.
Having said that, Google has put driverless cars on the road before. Previously, the company tested Lexus sport utility vehicles, for which there are no accident data. This is the first time Google is using its fleet of small cars.
Chris Urmson, director of Google's self-driving car program said the company is, "looking forward to learning how the community perceives and interacts with the vehicles, and to uncovering challenges that are unique to a fully self-driving vehicle—e.g., where it should stop if it can't stop at its exact destination due to construction or congestion."
If you're bullish about Nvidia, you could invest in the Market PowerShares QQQ Trust, Series 1 (QQQ). QQQ invests about 0.22% of its holdings in Nvidia.