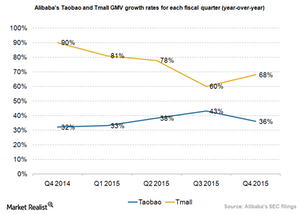 Alibaba Worries about Counterfeiting Once Again
Alibaba faces another counterfeit lawsuit
A lawsuit has been filed against Alibaba (BABA) for selling fake goods on its platform. According to a May 17 report from the Wall Street Journal, Kering, a Paris-based luxury goods maker, sued Alibaba, the largest e-commerce player in China (MCHI), for encouraging counterfeiting on its online platforms.
Kering owns famous luxury brands such as Gucci, Yves Saint Laurent, and Puma. In the lawsuit, Kering accuses Alibaba of allowing merchants to use Taobao to sell wholesale quantities of fake Gucci products.
Article continues below advertisement
Article continues below advertisement
The allegations against Alibaba also include charges of fraud email campaigns and favouring vendors that sell counterfeit products with priority billing. The same luxury brand owner filed a similar lawsuit against Alibaba in July 2014. It withdrew this suit the same month with a mutually agreed-upon resolution plan.
The impact of the issue on Alibaba's reputation
Counterfeiting poses serious questions regarding the number of orders handled by e-commerce players, as online sellers sell fake goods and alter prices per order sizes. A bigger order gives sellers a better chance to sell goods on these global platforms.
So the counterfeiting issue highlights a possible discrepancy in e-commerce statistics, as counterfeits have a direct impact on gross merchandise volume (or GMV)—the volume of goods transacted on a platform.
According to Alibaba's SEC filings, its platform transacted a GMV of $96 billion in Q1 2015. eBay (EBAY) reported a GMV of $20 billion in Q1 2015, while Amazon (AMZN) doesn't report GMV-related data.
Although the chart above shows Alibaba's strong growth in GMV for its Taobao and Tmall platforms, the repercussions of these unlawful sales on its platform could damage this growth. Alibaba could see its GMV growth slow as it tries to remove counterfeits from its platform.
In addition to Kering, Alibaba's platform hosts a number of well-known Western brands—such as Apple (AAPL), Nike (NKE), and Gap (GPS). Because of Alibaba's affiliation with these brands, overcoming counterfeits is important for the company.