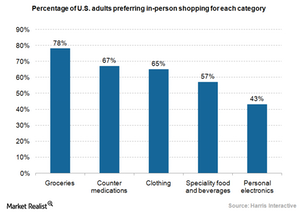 Blue Apron Could Raise New Funding at a Valuation of $2 Billion
Blue Apron has some challenges
Food startup Blue Apron could raise $100 million in new funding at a valuation of $2 billion, according to a report from the Wall Street Journal, citing people familiar with the matter. The report says investors are attracted by Blue Apron's ability to cut out the distribution, retail overhead, and food waste costs that we normally associate with supermarkets and restaurants.
Yet in our opinion, the key to unlocking Blue Apron's success will be convincing consumers that the food items the company delivers are just as fresh as items bought in person from a supermarket.
Article continues below advertisement
Currently, this isn't the case. According to a survey of 2,241 US adults conducted by Harris Interactive between June 11 and 16, 2014, Americans still prefer to shop in person for groceries. As the chart below shows, 78% of US adults prefer in-person shopping for general food purchases such as groceries. Personal electronics are the preferred category for online purchases.
Overall food retail market is huge
The meal and grocery market already has some big online retailers such as Amazon (AMZN) offering this kind of service. Amazon's AmazonFresh service offers home grocery delivery in select cities across the US. It started offering this service in Seattle and then expanded to cover Los Angeles and San Francisco last year.
Amazon is clearly looking to leverage the huge food retail market in the US, which Forrester Research estimates is worth $1 trillion. And, within the grocery market, Walmart (WMT) and Kroger (KR) are the top two players, with respective shares of 25% and 8%, according to a report from Euromonitor International.
Walmart isn't satisfied with being a leading player in the US grocery market. It's also looking to tap the fast-growing Chinese (FXI) grocery market. In Why Walmart plans to grow in the Chinese e-commerce market, we explored how Walmart is trying to leverage the Chinese grocery market and challenge Alibaba's (BABA) dominance there.