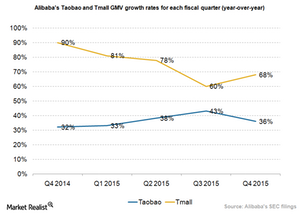 Alibaba's Taobao Gross Merchandise Volume Growth Slows in 4Q15
Alibaba's Taobao GMV growth has slowed down
In the prior parts of this series, we discussed Alibaba's (BABA) gross merchandise volume (or GMV) growth drivers. Alibaba has two main platforms for third parties to sell their products. The first is Taobao Marketplace, which is China's largest online shopping destination, similar to eBay (EBAY) in the United States. The second is Tmall, which is the largest third-party platform for brands and retailers.
In fiscal 4Q15, Alibaba's GMV growth for its Taobao platform slowed. As the chart below shows, Taobao's year-over-year GMV growth slowed from 43% in fiscal 3Q15 to 36% in 4Q15, while this growth rate increased for Tmall.
Article continues below advertisement
Article continues below advertisement
Alibaba's Tmall segment shows strong growth
Alibaba's management mentioned that the main reason for this slowdown was that Chinese New Year came late this year. Chinese New Year is similar to the holiday shopping period that we have in the United States. Management also clarified that the timing of Chinese New Year has little impact on the Tmall segment. This is because Taobao sellers are mostly small sellers with tight cash management. These sellers will pull back inventory and stock during the lean season. However, large sellers, which are typically present on Tmall, have flexible cash management.
Another reason for the continued strong growth from Alibaba's Tmall segment was the increasing demand for foreign brands and products from Chinese consumers. Alibaba mentioned that it's always looking to invest in minority stakes in foreign companies. Recently, Alibaba took on more than a 9% stake in US online retailer Zulily (ZU), according to its SEC filings on May 8.
Alibaba also intends to enter the Indian (EPI) e-commerce market with a stake in Snapdeal. However, the deal fell apart due to a disagreement on the stake's valuation. The Indian e-commerce market is experiencing strong growth, which is why Alibaba is interested in gaining a stake there. To leverage this growth, Amazon's (AMZN) making big investments in this market.