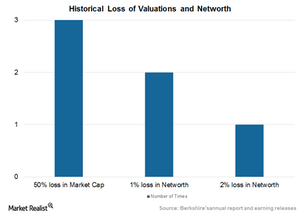 Warren Buffet's 50-Year Vision for Berkshire Hathaway
Risks and rewards
Berkshire Hathaway has doubled its earnings and balance sheet potential since the financial crisis of 2007. It gets its financial strength from portfolio companies that have large and reliable earnings, liquid assets, and no significant net term cash requirements.
The company maintains a minimum of $20 billion in cash and cash equivalents to take advantage of distressed pricing during downturns as well as to provide liquidity to its subsidiaries.
Berkshire Hathaway's (BRK-B) policy is to avoid writing derivative contracts. The company made an exception to this policy during the 2007 crisis when it saw immense value in them. However, its insurance subsidiaries will not do so to avoid a possible run on capital during panic times.
Article continues below advertisement
Future dividends
Berkshire is expected to build its underlying per-share earning power by buying companies across sectors that meet stated criteria. Because the company has major investments in the US, the performance of the US market would directly impact Berkshire's performance.
The company might consider paying dividends or repurchasing shares in 10 to 20 years. By then, its earnings and capital resources will have reached a level that will make it difficult for management to intelligently reinvest.
Berkshire Hathaway competes with asset managers such as Blackstone (BX), BlackRock (BLK), Goldman Sachs (GS), and Morgan Stanley (MS). Together these companies make up 5.93% of the Financial Select Sector SPDR Fund (XLF).
Berkshire Hathaway also competes with insurance giants including Allianz (ALV), American International Group (AIG), Metlife (MET), and other major players from the energy, industrial, and infrastructure sectors that form part of the iShares Core S&P 500 ETF (IVV).