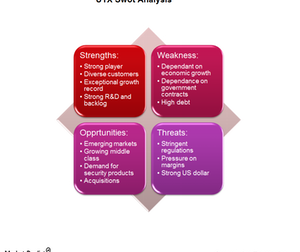 United Technologies Corporation: A SWOT Analysis
By Ally Schmidt

Updated
SWOT Analysis
In this article, we'll do a SWOT analysis of United Technologies Corporation (UTX), including its strengths, weaknesses, opportunities, and major threats.
Article continues below advertisement
The company's strengths
Below is a list that summarizes UTC's major strengths.
UTC has an exceptional record of business growth over the last 81 years.
UTC has a strong and diversified international presence with customers around the world.
UTC is a strong market player in the industrial and buildings businesses as well as the aerospace business.
UTC has a robust R&D (research and development) capacity and strives to make innovations in order to gain market share.
UTC has a reputed and strong management team backed by a legacy of strong leadership.
UTC has a strong backlog and has been witnessing good order growth for the past couple of years.
UTC is a strong dividend payer, which makes it an attractive investment option.
The company's weaknesses
The following list summarizes some of UTC's main weaknesses.
UTC has high debt levels.
UTC's aerospace segment, especially Sikorsky, is dependent on government contracts, which makes it volatile.
UTC is heavily dependent on the growth of various economies, including the United States, since its businesses are related to construction, defense, and aerospace.
Article continues below advertisement
A look at UTC's opportunities
Now let's take a look at UTC's opportunities.
Otis has growth opportunities in various emerging markets such as China, India, and Brazil, since a number of towns are being converted to cities.
Rising defense spending across Asia-Pacific and the Middle East is creating opportunities for military aircraft.
The rising middle class offers growth in commercial aircraft.
The electronic security market is growing with a demand for newer and technologically superior products.
The company expects to reduce its US defense cuts due to rising threats around the globe.
There are acquisition opportunities to fit the portfolio of services.
What are UTC's major threats?
What threats does UTC face in the near future?
Government regulations are stringent, and raw material prices are growing.
There's pressure on margins of the aerospace systems.
A stronger US dollar will hurt exports.
Volatility in foreign exchange will affect the bottom line.
UTC makes up 3.76% of the holdings of the iShares U.S. Industrials ETF (IYJ). Other aerospace companies included in IYJ are L-3 Communications (LLL), Honeywell International (HON), and General Dynamics (GD). These companies have 0.40%, 2.94%, and 1.60% holdings, respectively, in IYJ.