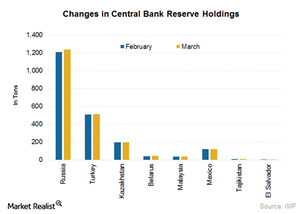 Russia on Gold Buying Spree, El Salvador Surprises with Sell-Off
Central bank gold reserves
Central banks hold ~20% of all the gold that has ever been mined. The sheer holding size is why central banks around the world can significantly influence gold prices.
Central bank gold reserves influence gold sales and purchases worldwide. In the process, they influence gold prices (GLD) as well as the price of gold stocks such as Eldorado Gold (EGO), Yamana Gold (AUY), and Gold Fields (GFI). They also affect ETFs that invest in these stocks, including the VanEck Vectors Gold Miners ETF (GDX). These three stocks form 11.7% of GDX's total holdings.
The International Monetary Fund (or IMF) reports changes in gold holdings on a monthly basis.
Article continues below advertisement
Article continues below advertisement
Who's selling gold?
In March 2015, El Salvador sold 5.41 tons of gold to end at 1.37 tons for the month. It sold close to 80% of its reserves. A central bank official told Reuters that the sale is mainly to diversify risk and take advantage of appreciating gold prices. El Salvador's national currency is the US dollar. It sold the gold for $206 million. This amount will go to the central bank's reserve portfolio to protect it against market volatility.
Mexico and Tajikistan also sold gold in March. Tajikistan sold 0.60 tons of gold to end the month at 8.9 tons, while Mexico sold 0.10 tons to finish the month with reserves of 122.4 tons.
Who's buying gold?
After a break of two months, Russia resumed its gold buying spree in March, buying close to 30 tons of gold. With this, its gold reserves reached 1,238 tons. Since 2005, Russia's gold reserves have nearly tripled. Last year, Russia added to its reserves for nine straight months until December 2014. It's the fifth largest holder of gold bullion.
Kazakhstan increased its gold reserves by about 2.29 tons to end at 198.4 tons for March. This is the 30th consecutive month that Kazakhstan has increased its holdings, which have more than doubled in the past three years.
Turkey, Belarus, and Malaysia also bought gold in the month of March, as you can see in the above graph. Turkey bought 2.7 tons to end at 513 tons. Belarus purchased 3.03 tons to finish with 45.52 tons, and Malaysia bought 0.60 tons to end with gold reserves of 37.0 tons for the month of March.