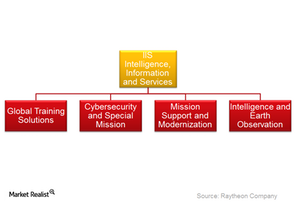 Raytheon's Intelligence, Information and Services Segment
About the segment
Raytheon Company's (RTN) Intelligence, Information and Services segment (or IIS), headed by David C. Wajsgras, offers a full range of space, training, engineering solutions, and logistics. The segment primarily provides services to government and civilian customers. It also provides global Intelligence, Surveillance, and Reconnaissance (or ISR), U.S. Department of Defense (or DoD) space and weather solutions, navigation, analytics, cybersecurity, and mission support solutions.
The segment serves a number of US government agencies such as intelligence, armed forces, Federal Aviation Administration, Department of Homeland Security (or DHS), NASA, and various international customers.
Article continues below advertisement
Capabilities
ISS's major product lines include the following:
Global Training Solutions (or GTS) – GTS provides logistics and engineering support. It also provides air traffic controller and other complex training solutions that align with the company's core business needs.
Cybersecurity and Special Missions (or CSM) – CSM provides cybersecurity solutions and other advanced intelligence solutions to its domestic and international government and commercial customers.
Mission Support and Modernization (or MSM) – MSM is a complete mission life-cycle support across operations, engineering, sustainment, and modernization services for site and platform missions, multi-intelligence (or multi-INT) ground systems, and unmanned systems technology for civil agencies and the U.S. Air Force.
Intelligence and Earth Observation (or IEO) – IEO provides ground systems for Signals Intelligence (or SIGINT) systems and Geospatial Intelligence (or GEOINT), storage architectures and high-performance data handling, large-scale data processing and exploitation, and processing systems for many top customers such as the U.S. Air Force, NASA, NOAA, and the U.S. Intelligence Community.
Performance 2014
The Intelligence, Information and Services segment was almost in line with last year. So were the operating income and margins, all of which saw marginal declines. However, IIS saw strong growth in bookings of about 5% year-over-year by virtue of bookings in many key programs such as the U.S. Air force program, maintenance services on radar systems, and JPSS for NASA.
Raytheon forms a 1.82% holding of the Industrial Select Sector SPDR (XLI). Other aerospace companies that form part of XLI are United Technologies (UTX), General Dynamics (GD), and Northrop Grumman (NOC). They have a 5.37%, 2.38%, and 1.83% holding, respectively.
In the next part of this series, we'll take a look at Raytheon's Missile Systems segment.