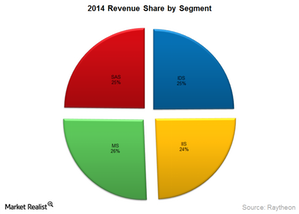 Raytheon Company: An Introduction
An overview of Raytheon
Raytheon Company (RTN) is a global technology leader and leading US defense contractor. The company primarily develops and manufactures weapons and military and commercial electronics. It caters to defense, security, and civil markets around the globe.
Raytheon is also a pioneer in the conversion of defense technologies into commercial products. The company was also a leading producer of business and special mission aircraft until it exited that business to focus on defense and commercial electronics.
Article continues below advertisement
The company depends primarily on military contracts from the US government and is one of the top defense contractors in the country. But since the sequestration budget cuts, the company has had strong growth in its international business, helping it reduce its dependency on the domestic military environment. The company has a strong customer base spread across more than 80 countries. It caters to their needs through its network of offices in the United States and more than 19 countries.
Key products
Raytheon Company (RTN) is the world's largest producer of guided missiles such as the Hawk and Patriot ground-based missile systems. It's also the leading producer of some other popular defense products such as the TOW, Tomahawk, and Stinger range of offensive missiles and infrared, radar, and other electronic systems for surveillance, reconnaissance, targeting, and navigation.
The company also provides mission systems integration, electronics, and other capabilities in the areas of sensing, effects and command, communications and intelligence, cyber security, and a broad range of mission support services.
Article continues below advertisement
Business segment
The company has the following four major business segments that contribute equally to the company's top line:
Integrated Defense Systems
Intelligence, Information and Services
Missile Systems
Space and Airborne Systems
Competition
Some of the key players in the industry include Lockheed Martin (LMT), Northrop Grumman (NOC), and General Dynamics (GD). Raytheon, Lockheed Martin, Northrop Grumman, and General Dynamics form 1.82%, 2.88%, 1.83%, and 2.38%, respectively, of the holdings of the Industrial Select Sector SPDR (XLI).
In the next part of this series, we'll take a look back at Raytheon's history.