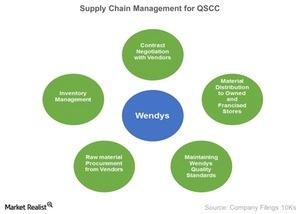 QSCC: Wendy's Supply Chain Management
By Adrian Newman

Apr. 1 2015, Published 5:06 p.m. ET
Wendy's supply chain management
QSCC (Quality Supply Chain Co-op, Inc.) is an independent non-profit organization that's responsible for the Wendy's (WEN) supply chain management. It's responsible for Wendy's owned and franchised restaurants in North America.
QSCC manages all of Wendy's purchases, distribution of food, and operating supplies. It negotiates concessional rates for procurements given the huge volumes that Wendy's requires. QSCC also ensured that suppliers satisfy Wendy's quality control standards.
The above graph shows QSCC's role in Wendy's business.

Article continues below advertisement
Service fees and patronage dividends
Wendy's and its franchisees pay sourcing fees to the vendors on products sourced by QSCC. This fee is remitted by these vendors to QSCC. If the fee exceeds their expected needs, QSCC's board of directors may return some of it to its members in the form of patronage dividend. Wendy's received a patronage dividend of $1.5 million, $3.3 million, and $2.5 million in 2014, 2013, and 2012, respectively. Wendy's also leased out office space to QSCC.
Flipside to the supply chain agreement
QSCC is the only supply chain manager for Wendy's entire operations in North America. If QSCC didn't managed Wendy's supply chain correctly, it could adversely affect the entire business. Also, Wendy's may not be able to easily extend the supply chain advantage when it expands internationally.
Competitors' supply chain management
Like Wendy's, Popeyes (PLKI) has a single supply chain manager. Given their international exposure, Yum! Brands (YUM) and McDonald's (MCD) have decentralized supply management. Yum! Brands has close to 3,000 suppliers all over the world. Panera Bread (PNRA) also has a list of suppliers that it selects along with its franchisees.
Investors can access companies in the fast food restaurant industry through ETFs like the Consumer Discretionary Select Sector SPDR ETF (XLY). XLY holds about 4.1% of McDonald's.