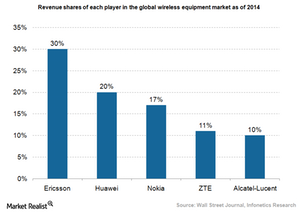 Nokia Acquires Alcatel-Lucent to Challenge Ericsson
Nokia agrees to acquire Alcatel-Lucent for $16.6 billion
Nokia (NOK) agreed to acquire Alcatel-Lucent (ALU) in an all-share transaction that values the deal at $16.6 billion—in a press release announced by Nokia on April 15. The companies state that the merger will help them cut 900 million euros of operating expenses on an annual basis by 2019. Nokia tried to justify the 28% premium that it paid on Alcatel-Lucent's average stock price over the last three months to acquire it.
The deal will make Nokia an even bigger european (EFA) wireless equipment player. Until now, Nokia was lagging behind Ericsson (ERIC) and Huawei in this market. However, the merger will make Nokia the second largest player.
Article continues below advertisement
Nokia will be ranked second
According to a report from the Wall Street Journal, citing Infonetics Research, Ericsson is the leading player in the wireless equipment market with a 30% share. Huawei is next with a 20% share. The above chart shows that Nokia has a 17% market share. ZTE is fourth with an 11% market share. Alcatel-Lucent placed fifth with a 10% market share.
Nokia has a diversified past. It entered into a joint venture with Siemens in 2007. However, it bought the stake back in 2013. The joint venture wasn't successful—Nokia suffered financially. Then, Nokia sold off its mobile phone business to Microsoft (MSFT) at a valuation of $7.2 billion. It struggled in the smartphone market against companies like Apple (AAPL) and Samsung.
Nokia hopes that its merger with Alcatel-Lucent doesn't experience the same fate.