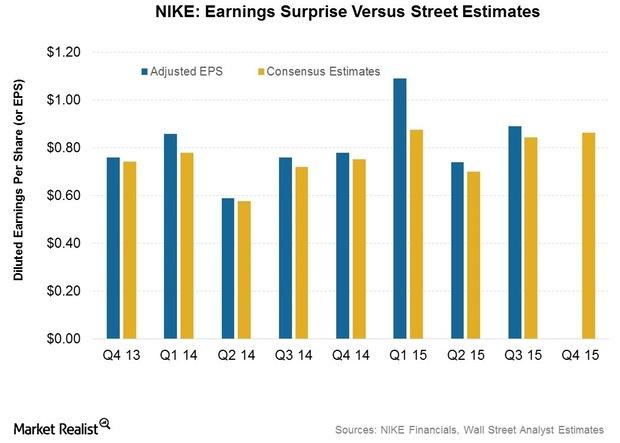 Nike's Outlook: Category Offense All the Way
Nike's outlook for fiscal 2015
Going into the final quarter of fiscal 2015, Nike (NKE) is projecting constant currency revenue growth in the low double digits. In US dollar terms, however, the sales increase will be significantly lower, about 8%–9% below constant currency growth rates. This is due to the expected appreciation in the US dollar.
Full-year revenues are projected to be ~$30.6 billion by consensus Wall Street analyst estimates, with $7.8 billion projected in 4Q15. In fiscal 2016, Nike expects reported growth in revenue to grow in the mid-single digits.
Article continues below advertisement
Cost-side expectations
Operating overhead is expected to outpace revenue growth. Nike expects to incur higher costs on SG&A (or selling, general, and administrative expenses) in 4Q15, primarily as a result of expanding direct-to-consumer (or DTC) ops. This includes expenses associated with owned stores, as well as e-commerce and digital investments.
However, gross margins are expected to expand by 1% for fiscal 2015 and 0.0%–0.25% in 4Q15. The lower expectations for the last quarter result from higher closeout sales in North America and Europe. However, the pricing mix is expected to continue tilting in favor of premium products helping gross margins.
Despite the projected margin expansion to ~45.8% in fiscal 2015, Nike's profitability is expected to trail peer Lululemon Athletica (LULU), primarily due to differences in the selling channel mix. LULU's gross margin came in at 50.9% in fiscal 2015.
Earnings estimates for Nike
Consensus Wall Street analyst estimates project Nike's adjusted diluted EPS (or earnings per share) to be $3.58 in fiscal 2015, an increase of 19.7% over the previous year. Nike's fiscal year ends May 31. In contrast, rivals Under Armour (UA) and VF Corporation (VFC) are expected to increase their EPS by 32% and 10.2% respectively, in the trailing 12 months through June 30, 2015.
Nike's EPS is projected to rise at a lower rate in fiscal 2016, at a "high single to low double-digits range," according to Don Blair, the company's chief financial officer. The projected growth rate would be down because of the currency impact due to the stronger US dollar.
NKE, VFC, and UA constitute 3.94% of the portfolio holdings of the Consumer Discretionary Select Sector SPDR Fund (XLY). Taken together, they also make up ~0.6% of the portfolio holdings in the SPDR S&P 500 ETF (SPY) and ~0.6% of the iShares Core S&P 500 ETF (IVV).
Category offense
On the whole, Nike's performance in 3Q15 was strong. Although certain markets posed challenges in 3Q15, Nike is upbeat on its prospects.
During the company's 3Q15 earnings conference call, CFO Don Blair noted, "We are on the offense. Always. ….we view a challenging operating environment as an opportunity to create further competitive separation. By staying focused on consumers and leveraging our strengths, we're confident we can continue to deliver strong financial performance and create value for our shareholders even in a challenging macroeconomic environment."
For more sector research and analysis, please visit our Consumer and Retail page.