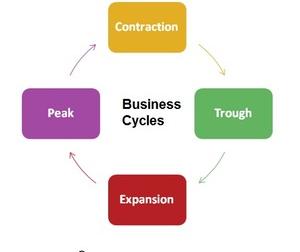 Leading Indicators that Help Identify the Current Business Cycle
By Surbhi Jain

Updated
A business cycle has four phases
Simply put, business cycles are phases of economic growth and decline. There are four prominent identifiable stages of a business cycle.
contraction – The contraction stage is marked by economic slowdown and a bearish stock market as investors sell on the expectations of a market crash. GDP (gross domestic product) growth levels are generally around 1%–2% or may even be negative at this stage. During this stage, investors usually look for safety stocks such as Proctor & Gamble (PG) and CVS Health (CVS).
trough – The trough stage is when the economy hits bottom and recession sets in. GDP growth at this stage is mostly less than 1% or negative. Utilities stocks (XLU) such as Duke Energy (DUK) and NextEra Energy (NEE) win investor favor during a recession.
expansion – The expansion stage of growth follows a recession and is usually characterized by a strong bull market. Investors start buying to book profits on recovery. GDP growth at this stage usually hovers around 2%–3%. The transportation sector (IYT) usually gains during the expansion phase as economic activity picks up pace.
peak – The peak stage is characterized by an overheated economy, rampant inflation, and a GDP growth rate above 4% for two or more quarters in a row.
Article continues below advertisement
The business cycle, which reflects the fluctuations of activity in an economy, can be a critical determinant of equity sector performance over the intermediate term. The US economy is currently in the expansion stage. To identify which industries will generally do well, it's important to know which industries tend to outperform or underperform in each of these stages of the business cycles.