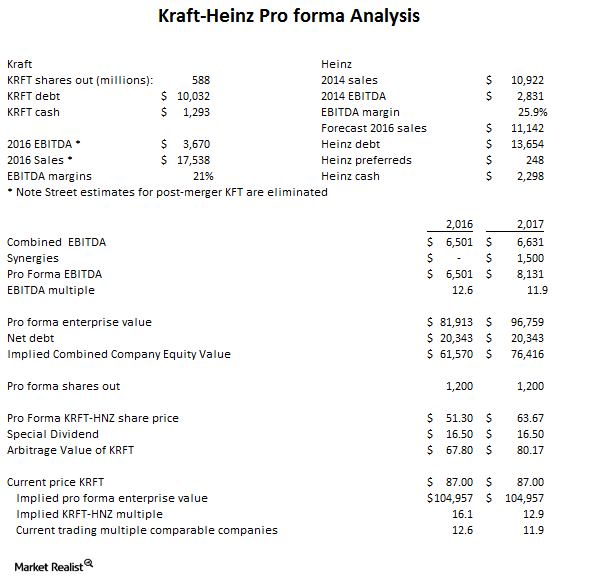 The Kraft–Heinz Merger: What's the Combined Company Worth?
By Brent Nyitray, CFA, MBA

Apr. 9 2015, Updated 1:54 p.m. ET
This transaction is all about valuing the combined company
Given that there is no way to short Heinz stock, arbitraging the spread is impossible. Arbitrageurs participating in the Kraft–Heinz merger are effectively making a valuation bet. Because Heinz is no longer publicly traded, there are no Wall Street estimates related to future sales and EBITDA. We had to make some assumptions regarding future growth that are likely to be modest at best.
Having said that, some arbitrageurs may set up the spread by buying Kraft stock and shorting an ETF against it, perhaps the Consumer Staples SPDR Fund (XLP) or the iShares Global Consumer Staples ETF (KXI).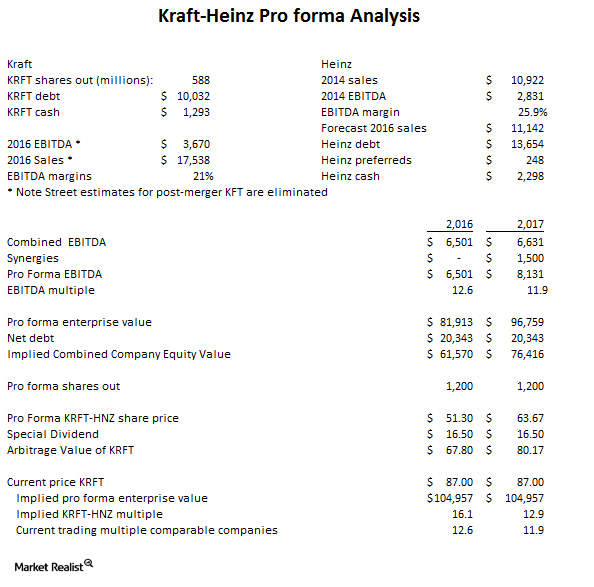 Article continues below advertisement
If you take Kraft's Wall Street estimates for 2016 EBITDA and combine it with Heinz's 2014 EBITDA grown at a small percentage increase, you come up with an expected EBITDA of about $6.5 billion. If you grow that at something like 2% and add in $1.5 billion of synergies, you come up with 2017 EBITDA of $8.1 billion. At current trading levels of Kraft stock, that implies a 2016 EBITDA multiple of 16.1x and a 2017 EBITDA multiple of 12.9x.
Given that comparables are trading at 12.6x 2016 EBITDA and 11.9x 2017 EBITDA, these are very rich multiples. In fact, if you assigned a valuation based on comparable multiples, you would arrive at a Kraft price of $68 to $80 a share, well below current values.
Basically, Kraft's stock price is implying that (a) the synergy estimates are lowballed, and (b) there is some value attached to Warren Buffett and Berkshire Hathaway's (BRK-B) involvement. That's why we've called the series "Betting on Buffet."
Merger arbitrage resources