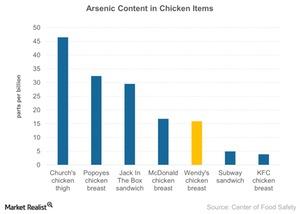 Healthy Food: Antibiotic-Free Chicken Is Gaining Importance
By Adrian Newman

Apr. 20 2015, Updated 12:06 p.m. ET
Arsenic in chicken 
Arsenic is a substance that's found in antibiotics. The antibiotics are added to poultry feed in order to induce faster weight gain on less feed. These substances also create the perceived appearance of healthy color in the chicken.
According to a study by researchers at John Hopkins University, the arsenic in served chicken isn't healthy. It could increase consumers' cancer risk. According to Wall Street analysts' reports, the FDA (Food and Drug Administration) admitted that almost 70% of chickens grown in the US contain arsenic.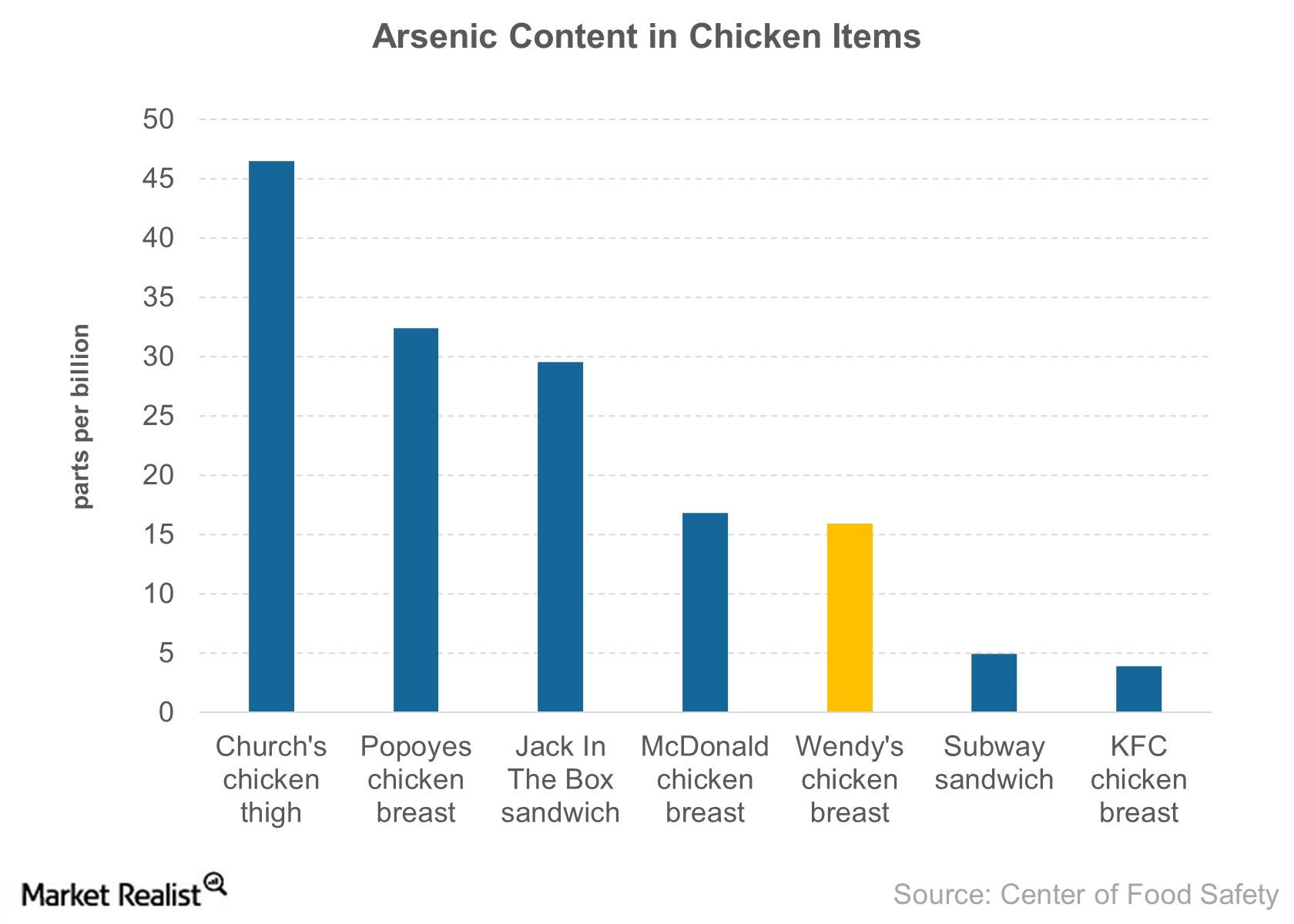 Article continues below advertisement
Arsenic content in served chicken
The above graph is based on a research conducted by the Center for Food Safety in 2013. It shows the extent of arsenic found in served chicken. It's expressed in parts per billion, or ppb, units of chicken items served in various fast food restaurants.
From the graph, we can clearly see that Church's Chicken contains the maximum amount of arsenic per unit of chicken served. The arsenic content is 46.5 ppb. Popeyes (PLKI) is next with an arsenic content of 32.4 ppb. Wendy's (WEN) arsenic content is significantly lower at 15.9 ppb. KFC (Kentucky Fried Chicken) comes under the umbrella of Yum! Brands (YUM). It's the healthiest. It has the lowest arsenic content of 3.9 ppb.
Serving antibiotic-free chicken
According to Reuters' reports, McDonalds' (MCD) recently announced its plans to gradually phase out serving chicken raised on antibiotics. Restaurants like Chipotle (CMG) and Panera Bread (PNRA) already serve antibiotic-free chicken. Obviously, there's competition among fast food restaurant chains to attract younger and health conscious customers. The restaurants are working towards serving more naturally grown chicken.
Investors can access companies in the fast food restaurant industry through ETFs like the Consumer Discretionary Select Sector SPDR ETF (XLY). XLY holds 10% of its investments in restaurants and travel.