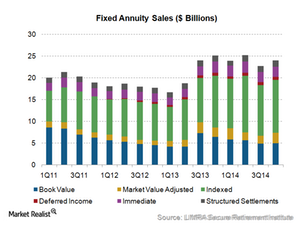 Fixed Annuity Sales Driven by Indexed Products in 2014
By Sean Millard

Updated
Fixed annuities
As mentioned in the first article of this series, fixed indexed annuities provide a regular income to the annuitant, or the buyer of the annuity, at a fixed rate. In the United States, fixed annuity products are sold by American International Group (AIG), MetLife (MET), Lincoln National Corporation (LNC), Genworth Financial (GNW), and other insurers held by ETFs such as the iShares U.S. Financials ETF (IYF).
Article continues below advertisement
Robust growth
In the above chart, you can see higher fixed annuity sales from the second half of 2013. When compared on an annual basis, sales of the fixed annuity products increased more than 13% in 2014 compared to 2013, according to the data provided by the LIMRA Secure Retirement Institute.
Almost all product types registered sales growth in 2014. But the strongest growth rates were registered by fixed indexed annuity products and deferred income products. In 4Q14, the market share for fixed annuities was dominated by indexed products with more than 50% share, according to data provided by the Insured Retirement Institute and Beacon Research.
Fixed indexed annuities
Fixed indexed annuities have an additional component that allows the annuitant to participate in movements of an index and still have the traditional guarantees of a fixed annuity. Sales of these products increased by ~23%, with total sales at $48 billion in 2014 compared to $39 billion in 2013. The surge in popularity of these products could be attributed to the demand from the retiring Baby Boomers for regular income products.
Deferred income products
Deferred income products protect annuitants from the risk of outliving savings. These products provide income streams after a certain period of time in exchange for an upfront payment. Although industrywide sales volume is small in this product category, or close to $3 billion in 2014, when compared to other product types, these products saw around 23% sales growth in 2014.