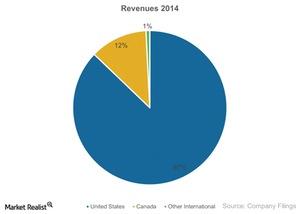 Emerging Markets: Wendy's International Expansion Plans
International operations of competitors
Most players in the fast food restaurant industry are heading towards emerging markets—like the Middle East and Asia. McDonald's (MCD) earns almost 68% of its revenue internationally. Burger King (QSR) and Yum! Brands (YUM) also earn almost 50% of their revenue from their international locations. Popeyes (PLKI) also expanded internationally.
Article continues below advertisement
Article continues below advertisement
Wendy's international ventures 
According to the above graph, only about 1% of Wendy's (WEN) revenue comes from outside North America. According to reports by PanAm Posts, Wendy's had to shut down its operations in Costa Rica in January 2015 due to stiff competition.
Also, according to reports by the Wall Street Journal and The Tokyo Times, Wendy's had to shut down all of its stores in Japan in 2009 due to stiff competition. It made a comeback in 2012. Wendy's is eyeing emerging markets. Recently, it hinted at expansion in the Middle East and India through franchisees.
To learn more about the restaurant industry in the US, read An in-depth overview of the U.S. restaurant industry.
Challenges in Wendy's international expansion
So far, Wendy's performance has been based on the US economy, consumers' preferences, and spending patterns in the US. International expansion will have its own complexities ranging from local laws, culture, economy, currency exposure, local infrastructure, and customizing menu options according to local tastes.
Finding the right strategic partners in an international franchisee and managing them will be a challenge for Wendy's.
Investors can access companies in the fast food restaurant industry through ETFs like the Consumer Discretionary Select Sector SPDR ETF (XLY). XLY holds about 4.1% of McDonald's.