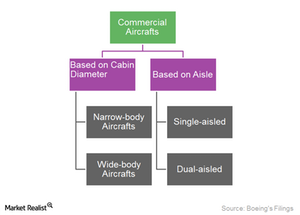 Boeing's Commercial Aircraft Classifications
Aircraft overview
Aircraft, including those used by Boeing, can be classified by a variety of factors, including:
number of engines
speed range
distance range
usage
power and propulsion type
lift type
However, the most common way of classifying commercial aircraft is as wide-body and narrow-body aircraft, and as single-aisle and dual-aisle aircraft.
Article continues below advertisement
A look at the global airline market
Boeing makes commercial aircraft that carry 100–500 passengers. The two largest aircraft companies in the world, Airbus and Boeing primarily focus on wide-body aircraft that are capable of serving long-range destinations. These two companies also cater to the narrow-body segment, with four- to seven-across seating. The rest of the companies focus on narrow-body aircraft and find their strengths in smaller three- and four-across seating configurations, as well as turboprop aircraft.
The two most common aircraft manufacturers that power airline fleets across the globe are Airbus (EADSY) and Boeing (BA). Embraer (ERJ), Bombardier (BDRAF), and Finmeccanica follow these two manufacturing giants.
Boeing forms 3.64% of the iShares US Industrials ETF (IYJ) and 5.17% of the Industrial Select Sector SPDR ETF (XLI). Other companies included in IYJ are United Parcel Service (UPS), Accenture (ACN), and Danaher Corporation (DHR), with holdings of 2.57%, 2.05%, and 1.93%, respectively.