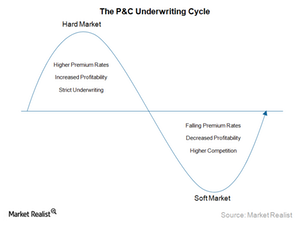 How Underwriting Cycles Impact the Top Line and the Bottom Line
Market conditions
The underwriting cycle moves between hard and soft market conditions, as mentioned in the previous article. These market conditions have different sets of characteristics that determine not only the profitability of the insurance industry, but also the premium received by the insurers. In the following section, we discuss the hard and soft market conditions.
Article continues below advertisement
Hard market
A hard market is a period when premiums that insurance companies charge remain high, as the insurers focus on stricter underwriting. Hard markets occur after a period of lower profitability, so insurers focus more on maintaining margins than on business volume. As insurers start making profit, more players enter the market to capture on this profitability trend. This is when the market starts to soften.
Soft market
As more insurers enter the market, it results in increased capacity, which implies higher premium volumes in the industry. Increased competition also results in lower premium rates and thus reduced underwriting profitability, as the insurers focus on volume to grab the market share. Once the peak condition is reached, lower profitability drives players out of the market. The market moves towards a hard market condition as premium rates increase because of lower competition in a seller's market.
Premium rates as an indicator
Premium rates are an indicator of market conditions. Market hardening can be indicated by consistent rate increases by P&C insurers like AIG (AIG), ACE (ACE), Allstate (ALL), Travelers (TRV), and Chubb (CB), as well as insurers in the Financial Select Sector SPDR ETF (XLF), while the transition to a soft market will be indicated by consistent decreases in rates. In this series, we look at the evolution of premium rates in various lines of P&C businesses to assess the current market scenario.