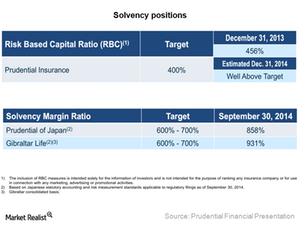 Prudential Financial Enjoys Strong Solvency Ratios
Solvency ratios
Insurers need to maintain capital in the form of liquid assets for payments of unexpected large claims. The capital requirement for an insurance company is stipulated by regulatory bodies. These insurers include Prudential Financial (PRU), MetLife (MET), Aflac (AFL), Lincoln National Corp (LNC), and those in the Financial Select Sector SPDR ETF (XLF).
In the United States, insurers are required to maintain risk-based capital. Risk-based capital ratios are calculated as a ratio of the capital available to an insurer to the minimum amount of capital an insurer must hold for the amount of risk in its product portfolio. For more information, please refer to our insurance industry overview, An investor's guide to the insurance business.
Article continues below advertisement
US RBC Ratio
As shown in the above chart, Prudential Financial (PRU) has comfortable solvency positions in its various subsidiaries. In the US, Prudential Insurance—the major US subsidiary—had a solvency ratio of well above the target ratio of 400%. Investors should note that in 2013, the US subsidiary exceeded the target ratio by over 50 percentage points.
Other key life insurance players in the market, like MetLife (MET), Lincoln National Corp (LNC), and Aflac (AFL), also posted comfortable solvency ratios at the end of 2014.
Solvency ratios in Japan
Prudential's subsidiaries in Japan, its other key market, also posted robust solvency ratios. At the end of the latest reporting period of September 30, 2014, Prudential Life of Japan and Gibraltar Life had solvency ratios above 850% and 900%, respectively, against a target range of 600–700%.
In the next few articles, we'll review Prudential Financial's business segments.