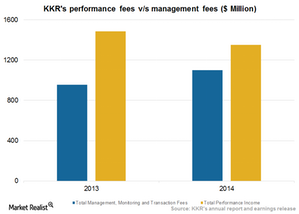 KKR Capstone: An institutionalized process of creating value
Focus on operational performance
KKR & Co. L.P. (KKR) focuses on the operational performance of its portfolio companies along with investing at lower valuations. The company has institutionalized the process of creating value in its portfolio companies through KKR Capstone.
KKR formulated KKR Capstone with more than 50 operating consultants who work exclusively with the portfolio companies' investment professionals and management teams. KKR Capstone provides additional expertise to the management teams by defining strategic priorities and implementing operational changes. The team also helps assess investment opportunities.
Article continues below advertisement
Various phases of investment
During the initial phases of an investment, the KKR Capstone team seeks to implement operational strategy for value creation. The team addresses major factors such as top-line growth, cost optimization, leverage, efficient capital allocation, and the development of operating and financial metrics.
During the later stages, the team focuses on identifying challenges and helping grow the companies by taking advantage of business opportunities related to the sector and portfolio company.
KKR & Co. L.P. (KKR) faces competition in talent acquisition from major alternative asset managers such as The Blackstone Group (BX), The Carlyle Group (CG), and Apollo Global Management (APO).
Traditional asset managers such as BlackRock (BLK), BNY Mellon Asset Management (BK), and Franklin Resources (BEN) together make up 3.73% of the Financial Select Sector SPDR Fund (XLF) have also expanded into private equity and hedge fund businesses, which resulted in the building of the professional network.