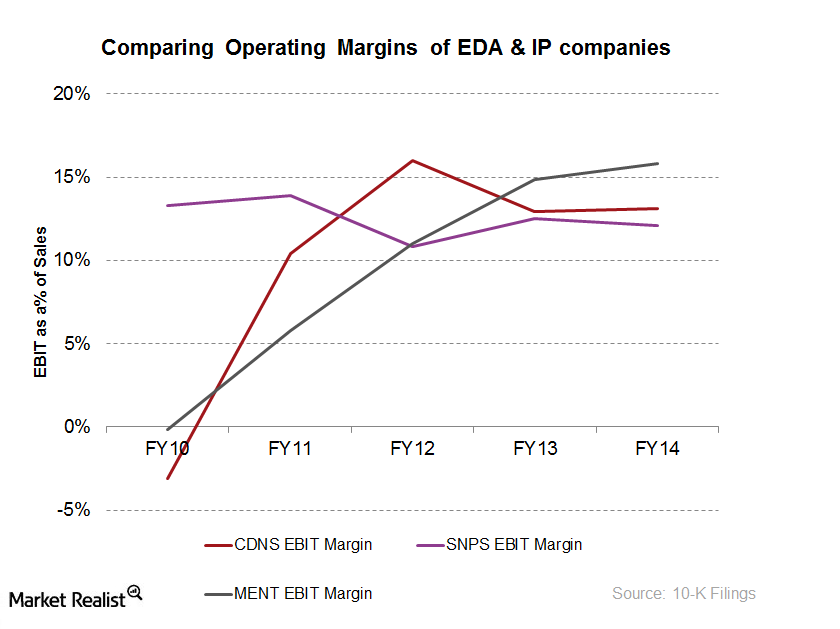 A key analysis of Cadence's profitability
By Santiago Solari

Mar. 11 2015, Updated 11:05 a.m. ET
Operating profitability remains fairly stable
In dollar value, Cadence Design Systems's (CDNS) fiscal 2014 operating income increased to $206.6 million from $189 million in fiscal 2013. However, as a percentage of sales, operating profit margin (earnings before interest and taxes to total sales) was relatively flat at 13.0%.
During fiscal 2014, Cadence's costs associated with the sale of its products and services remained at 14% of sales. The company's research and development (or R&D) expenses as a percentage of sales increased by 100 bps, owing to higher intellectual property–related research and development spending. This was more than offset by reductions as a percentage of sales in selling, general, and administrative (or SG&A).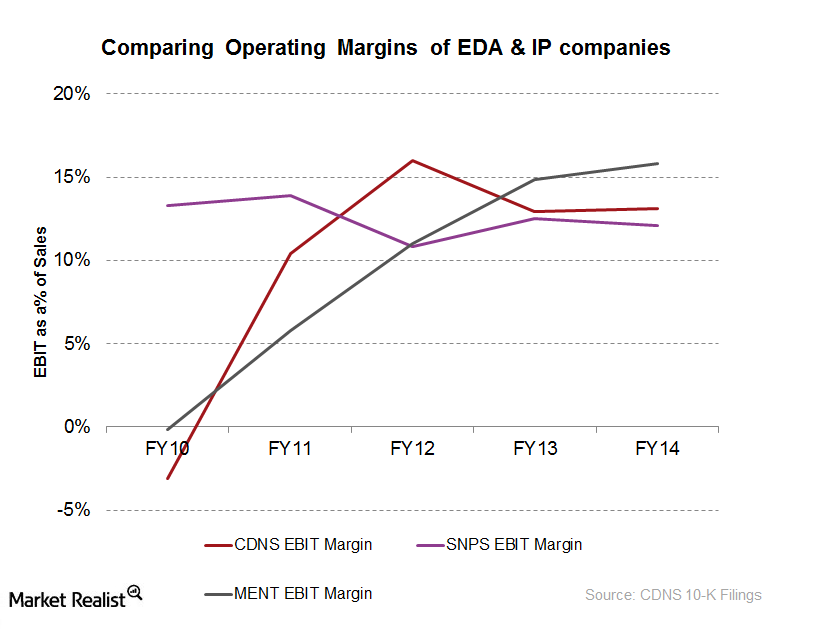 Cadence's net income slipped to $158.9 million from $164.2 million in the previous year and by approximately 4 cents on a per share diluted basis to $0.52. The decline in net earnings was mainly due to Cadence's tax credits in fiscal 2013, which did not repeat in the current fiscal year.
Article continues below advertisement
Benchmarking Cadence's profitability with its peers
Cadence and its two main competitors, Synopsys (SNPS) and Mentor Graphics (MENT), typically earn operating margins in the range of 13%–16%. With its larger scale of operations, Synopsys was able to maintain its operating profit margins at steady levels, and Cadence has demonstrated stability since 2009.
As evident from the chart above, Mentor Graphics beat both Cadence and Synopsys with an operating profit margin of 15.8%. Despite slower sales growth and lower gross margins, Mentor has been able to beat its peers on this front due to prudent management of its SG&A and R&D expenses.
In a broad sense, electronic data automation (or EDA) and intellectual property (or IP) companies tend to rely on the performance of the technology sector. Investors seeking to gain exposure to the tech sector through ETFs can consider the Technology Select Sector SPDR Fund (XLK). XLK's key stocks include Apple (AAPL), Microsoft (MSFT), Cisco (CSCO), Oracle (ORCL), Facebook (FB), and Google (GOOGL). Together, these stocks make up around 40% of the ETF's portfolio.