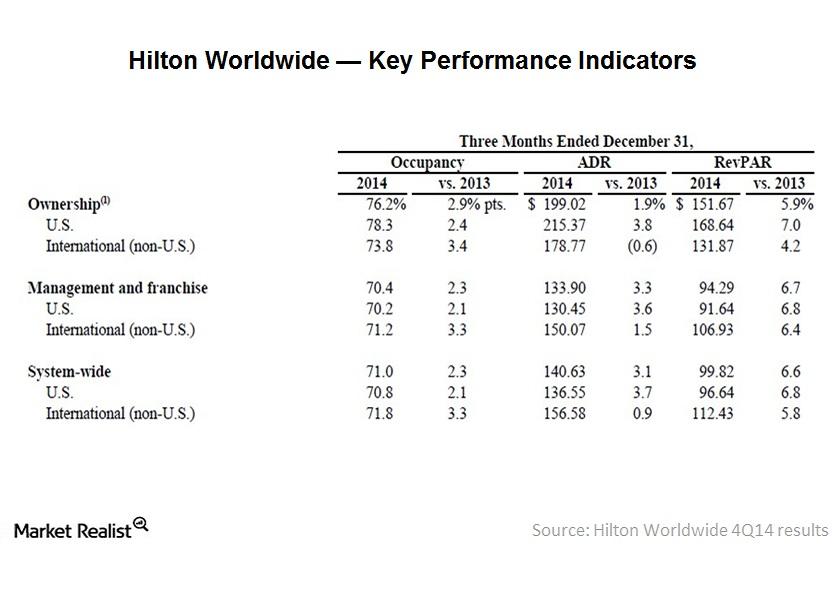 Hilton's revenue was driven by occupancy and room pricing
Hotel performance
Hilton Worldwide (HLT) generates revenue from its hotel operations. The key performance metrics for the hotel industry are RevPAR (revenue per available room), occupancy rate, and ADR (average daily rate). These metrics are useful for analyzing the performance of each segment and the group as a whole.
Article continues below advertisement
Article continues below advertisement
Occupancy
The occupancy rate measures the percentage of the total available rooms that are sold by the company during the period. It's calculated as the total number of rooms sold divided by the total number of rooms available at a hotel. It gives meaningful information about demand for the hotel's services. Hilton's system-wide occupancy increased 2.3% year-over-year, or YoY, to 71% in 4Q14.
Average daily rate 
ADR is a measure of the hotel rooms' average room price. It's calculated as the hotel room revenue divided by the number of rooms sold. ADR is an important indicator. It influences the hotel's revenue and profitability. Hilton's ADR increased 3.1% to $140.63 in 4Q14.
Article continues below advertisement
Revenue per available room 
RevPAR is calculated by dividing the hotel room revenue by the total available room nights. RevPAR factors in the occupancy rate and ADR. Hilton's system-wide RevPAR increased 6.6% to $99.82. It was driven by an increase in the occupancy and ADR. This is the highest YoY increase for Hilton in 4Q14—compared to its peers.
In 4Q14, the system-wide RevPAR increased by ~5% YoY on a constant currency basis for Wyndham Worldwide (WYN) and Hyatt Hotels (H). Marriott International's (MAR) system-wide RevPAR rose 6.2% YoY in 4Q14.
Investors can buy Hilton's share directly or through ETFs like the PowerShares Dynamic Leisure and Entertainment Portfolio (PEJ) and the Consumer Discretionary Select Sector SPDR Fund (XLY).
Key takeaways from 4Q14 earnings call
Kevin Jacobs, Hilton's executive vice president and CFO, said that "RevPAR at our US-Owned and Managed properties rose 7.3% in the quarter, due to robust Group performance in the San Francisco, Chicago, and Los Angeles markets, where Group revenue increased between 15 and 25%."