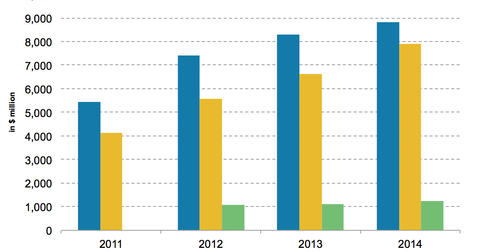 Eminence Capital Reduces Position in eBay
By Diana Key

Updated
Eminence Capital and eBay
During the fourth quarter of 2014, Eminence Capital lowered its stake in eBay (EBAY). The fund held 3,133,284 shares of EBAY, which accounted for 2.55% of the fund's 4Q14 portfolio. The company had made up 3.82% of the fund's 3Q14 portfolio with 4,612,321 shares.
Article continues below advertisement
An overview of eBay
A global e-commerce platform and payments leader, eBay operates in three reportable segments:
The Marketplaces segment includes the eBay.com platform, its localized counterparts, StubHub, and sites for online classifieds.
The Payments segment consists of PayPal and PayPal Credit, which was formerly Bill Me Later.
The Enterprise segment includes the company's Magento business. Magento provides commerce technologies, omnichannel operations, and digital marketing solutions for merchants of all sizes.
As of December 31, 2014, the Marketplaces segment had more than 155 million active buyers and more than 800 million listings globally. The Payments segment had 162 million active registered accounts.
During the third quarter of 2014, Alibaba Group Holding (BABA) made an initial public offering (or IPO) with a valuation of $231 billion. The valuation is more than the combined valuation of eBay and Amazon (AMZN). BABA's much-talked-about and so-called "largest global IPO ever" has significantly increased e-commerce competition.
Spin-off of PayPal
In October 2014, eBay announced plans to spin off PayPal as an independent trading company. EBAY expects to complete the tax-free spin-off by 2Q15. The company wants to capitalize net cash of about $2 billion with a significant debt capacity and leave PayPal with about $5 billion in net cash.
Article continues below advertisement
Strategic alternatives for eBay Enterprise
The company has decided to explore strategic alternatives for eBay Enterprise. According to the company's chief executive officer John Donahoe, Marketplaces and Enterprise have "increasingly divergent opportunities." The company is looking forward to selling Enterprise fully, partially, or as an IPO.
Job cuts
The company is planning to cut 2,400 jobs, which account for 7% of its global workforce. These job cuts will result in a $100-million charge in 1Q15. The company expects to have saved $300 million by the end of 2015.
Recently, the company added three new board members and another one from Icahn Capital.
Article continues below advertisement
PayPal's effect on fourth-quarter results
During the fourth quarter, eBay's commerce volume was up 21% to $72 billion. Mobile commerce represented 23% or $17 billion of the total volume with a growth rate of 59%.
Revenue grew 9% to $4.9 billion. Organic revenue growth was 10%. GAAP (or generally accepted accounting principles) net income was $1 billion. Free cash flow was $1.3 billion.
At PayPal, revenue was up 18% on a constant currency basis to $2.2 billion.
Marketplaces revenue was up 5% on a constant currency basis to $2.3 billion. For eBay Marketplaces, the fourth quarter was disappointing because low new user growth and depressing US exports on a stronger dollar resulted in ecosystem disruptions. The company expects these challenges to become worse during the first half of 2015. Since 4Q13, the gross merchandise volume for Marketplaces has decreased by seven points globally and by 11 points in the US.
Gross merchandise sales in eBay Enterprise were up 9% to $1.9 billion. Revenue was also up 9% to $443 million.
For 2014, revenue was up 12% to $17.9 billion. GAAP net income was $46 billion. Free cash flow was $4.4 billion.
The company repurchased $4.7 billion of its stock during the year. It has added $2 billion in its buyback program.
2015 outlook
For 2015, the company expects revenue of $18.6 billion to $19.1 billion, which would represent growth of 7%–10% on a constant currency basis. The company projects that non-GAAP EPS will increase by 3%–7% to $3.05–$3.15.
EBAY anticipates PayPal revenue growth of 15%–18% on a constant currency basis. Segment margin could increase by 1 or 2 points to 24% to 25%.
For Marketplaces, the revenue growth expectation is 0%–5% on a constant currency basis. Margins will likely remain flat at 37%–39%.
For Enterprise, revenue growth will likely be 5%–8% on a constant currency basis with margins that are 5%–10% higher than those for 2014.
You can gain exposure to eBay by investing in the Technology Select Sector SPDR Fund (XLK) and the PowerShares QQQ Trust (QQQ). The company accounts for 1.59% and 1.43% of XLK and QQQ, respectively.
In the next part of this series, we'll discuss Eminence Capital's position change in Humana.