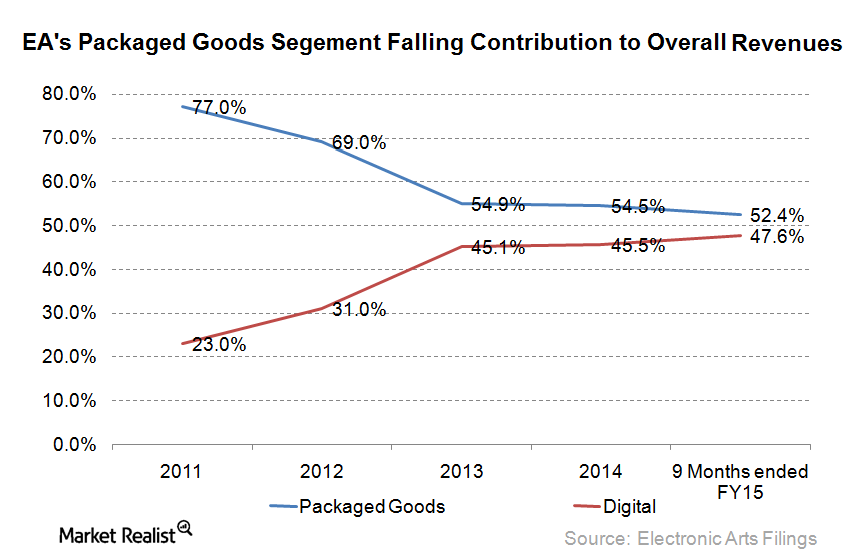 EA's Packaged Goods Segment's Revenue Contribution Declined in 3Q15
Packaged goods – more than half of the revenue in 3Q15
Electronic Arts' (EA) Packaged Goods segment includes games created and published by the company for consoles, handheld devices, and PCs. The games are available to consumers as packaged goods on Blu-ray, CD, DVD, cartridge, and the UMD (Universal Media Disc) format. The games are sold by the retailer. This also includes online retailers like Amazon.com (AMZN).
In 3Q15, EA's packaged goods stood at $735 million. Packaged goods accounted for ~51.5% of the company's total revenue. It's important to analyze the segment's contribution over the last couple of years. You can see its contribution in the following graph. The segment's contribution to the overall revenue is steadily declining.
There's an increasing consumer trend towards the digital space. The company accepted the trend. This caused the segment to contribute less to the overall revenue.
You can consider investing in the Technology Select SPD (XLK) to gain exposure to EA. It accounts for about 0.47% of XLK.
Article continues below advertisement
Trends observed in 3Q15
In 3Q15, the revenue for Microsoft's (MSFT) Xbox One and Sony's (SNE) PlayStation 4 stood at $593 million. This was an increase of 51% on year-over-year, or YoY, basis. In contrast, the revenue for Xbox 360 and PlayStation 3 stood at $412 million. This was a decline of 41% on a YoY basis.
According to NPD Group, sales of packaged, new-generation software—like PlayStation 4 and Xbox One—increased 238% in 2014. The sales of previous generation software—PlayStation 3, Xbox 360, and Nintendo hardware—declined by 51%.
Newer consoles—like Xbox One and Sony's PlayStation 4—cost around $400. According to EA's CFO, Blake Jorgensen, there are still consumers who don't want to spend $400. However, they want a console.
According to Jorgensen, in 3Q15, sales were surprisingly strong for older consoles—like Xbox 360—that were sold at discounted prices.