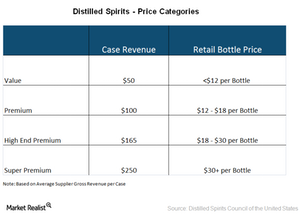 Demand for Expensive Liquor Is Growing
The spirits market
Companies such as Diageo (DEO) (DGE.L), Brown-Forman (BG.B), Constellation Brands (STZ), Pernod Ricard (PDRDY) (RI.PA), and other spirit or liquor producers offer products such as whiskey, rum, tequila, and gin across various price points.
Beverage companies account for 19.6% of the Consumer Staples Select Sector SPDR Fund's (XLP) portfolio allocation.
Article continues below advertisement
Spirit price categories
The following are the four spirit price categories based on supplier prices:
value – revenue per case of $50 with a retail bottle price less than $12 per bottle
premium – revenue per case of $100 with a retail bottle price in the range of $12–$18
high end – revenue per case of $165 with a retail bottle price in the range of $18–$30
super premium –revenue per case of $250 with a retail bottle price of more than $30
Price category share
In 2014, the premium category dominated the liquor market with a 36.3% share of the total liquor volume of 210 million 9-liter cases. The premium category held a 32.8% share of the total liquor supplier gross revenues of $23.1 billion.
The value, high end, and super premium categories held 17.4%, 30.1%, and 19.7% shares, respectively, of the total gross revenues.
Article continues below advertisement
Premiumization
The performance of the liquor business in 2014 reflects the premiumization trend, or a preference for better, premium, or expensive liquor brands.
This trend can also be seen in the beer industry, where companies such as Anheuser-Busch InBev (BUD) (ABI.BR) are impacted by the rise of craft beer.
In 2014, according to estimates provided by the Distilled Spirits Council of the United States, the high-end category registered a 5.8% growth in volume. It came in ahead of the 5.1% growth in super premium volume as well as the 3.1% growth in premium. The value category fell by 1.3% in terms of volume.
Of the $900 million incremental spirits revenue in 2014, about $433 million came from high-end liquor. In terms of revenue growth, super premium liquor registered an impressive 8.3% growth in revenues, followed by high-end liquor, which grew by 6.6% in 2014.
Improving macro conditions, falling oil prices, and innovative offerings are driving demand for expensive spirits. Some of the top brands include Jack Daniels owned by Brown-Forman, Makers Mark owned by Beam Suntory, Johnnie Walker Black owned by Diageo, and Chivas Regal owned by Pernod Ricard. Brown-Forman makes up ~0.07% of the iShares Core S&P 500 ETF (IVV).