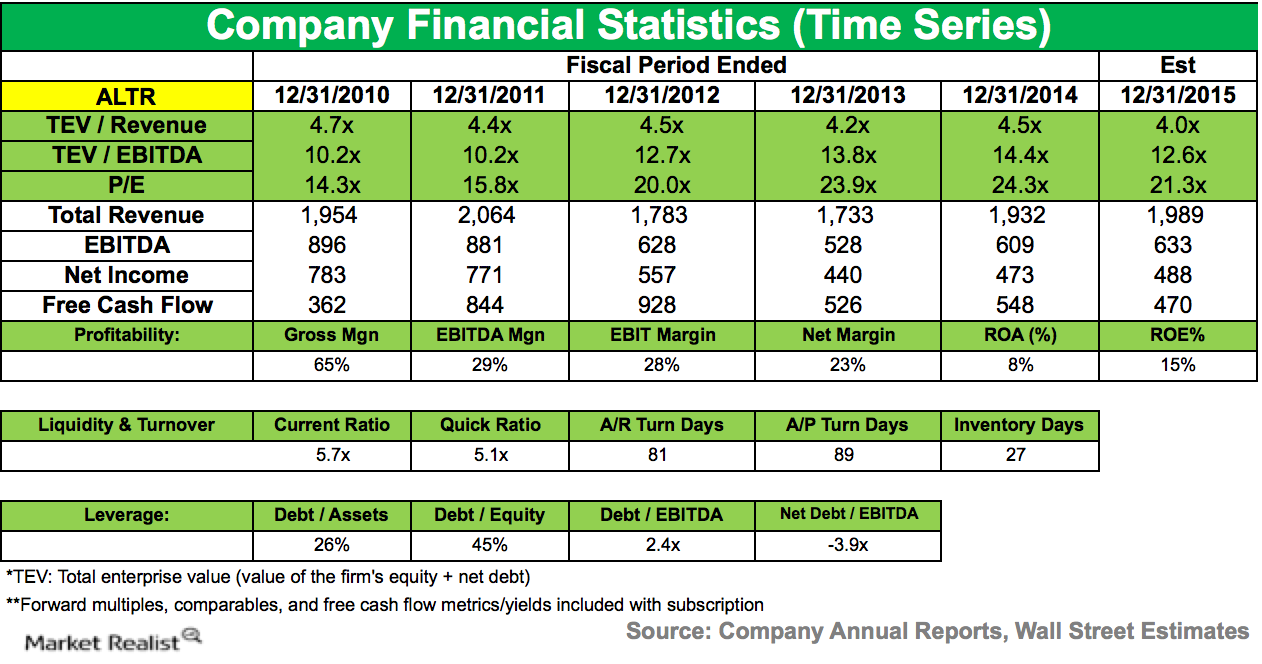 Citadel Advisors Starts a New Position in Altera Corporation
Citadel Advisors and Altera Corporation
During 4Q14, Citadel Advisors started a new position in Altera Corporation (ALTR). At the end of 4Q14, Citadel held 2,154,191 shares of ALTR, which accounted for 0.096% of the fund's 4Q14 portfolio. ALTR is a part of the Technology Select Sector SPDR Fund (XLK) and the iShares Russell 1000 Value ETF (IWD). ALTR accounts for 0.29% and 0.07% of XLK and IWD, respectively.
Article continues below advertisement
Overview of Altera
Altera is a global semiconductor company that designs and sells a variety of products, including:
programmable logic devices (or PLDs), which consist of field-programmable gate arrays (or FPFAs) and complex programmable logic devices (or CPLDs)
highly integrated power devices, known as power system-on-chip devices (or PowerSoCs)
pre-defined design building blocks, known as intellectual property (or IP) cores
The company has high risk of foreign exchange fluctuations, as international revenue other than the US and Canada represented 84% and 82% of total revenue in 2014 and 2013.
FGPA drives Altera
FPGA is the most important semiconductor segment in the processor category. The segment contributed 84% of the company's total revenue in 2014 and 83% and 84% in 2013 and 2012, respectively. CPLD contributed 8% in 2014.
As per Gartner, Altera's market share in PLD has improved from 36% in 2009 to 38% in 2014. In the PLD market, Altera competes with Microsemi Corporation (MSCC). In FGPA and CPLD markets, Altera's share of contribution was 37% and 35%. Altera competes with Xilinx (XLNK) in the FGPA market.
Article continues below advertisement
Altera focuses on new products
Altera has categorized its products according to relative life cycle stages of its products, as new products, mainstream products, and mature products. New products are mainly comprised of the most advanced products. Altera has significantly increased its new products contribution in product mix by reducing its concentration of mature products, as mature products generally experience price wars leading to lower prices for these products, which reduce margins further. New products accounted for 3% of the total revenue in 2009, 32% in 2012, and 54% in 2014. Mature products' share decreased from 76% in 2009 to 38% in 2012 to 25% in 2014.
Altera missed estimates in 4Q14
For the fourth quarter, revenue was down 4% sequentially and up 6% year-over-year (or YoY) to $479.9 million due to lower demand in Telecom & Wireless and Networking, and Computer & Storage markets.
The company faced gross margin pressure throughout 2014 due to the unexpected product mix. The fact that mature products still contribute 25% of the total revenue may be the reason behind margin pressure. Net income was $111.1 million, or $0.36 per diluted share, compared to $118.0 million, $0.38 per diluted share, in 3Q14 and $98.9 million, or $0.31 per diluted share, in 4Q13.
For full-year 2014, revenue grew 12% "outpacing the semiconductor industry," to $1.9 billion. FGPA revenue increased 13% in 2014.
Altera returned 130% of operating cash flow against a target of 68%. The company repurchased $650 million shares in 2014 and paid $200 million in dividends. The company also declared a quarterly dividend of $0.18. For 1Q15, revenue is expected to decline 4% sequentially.
In the next part of the series, we'll discuss Citadel's position change in Citigroup (C).