Citadel Advisors Reduces Position in Archer Daniels Midland
The Archer Daniels Midland Company is a processor of oilseeds, corn, wheat, cocoa, and other agricultural commodities.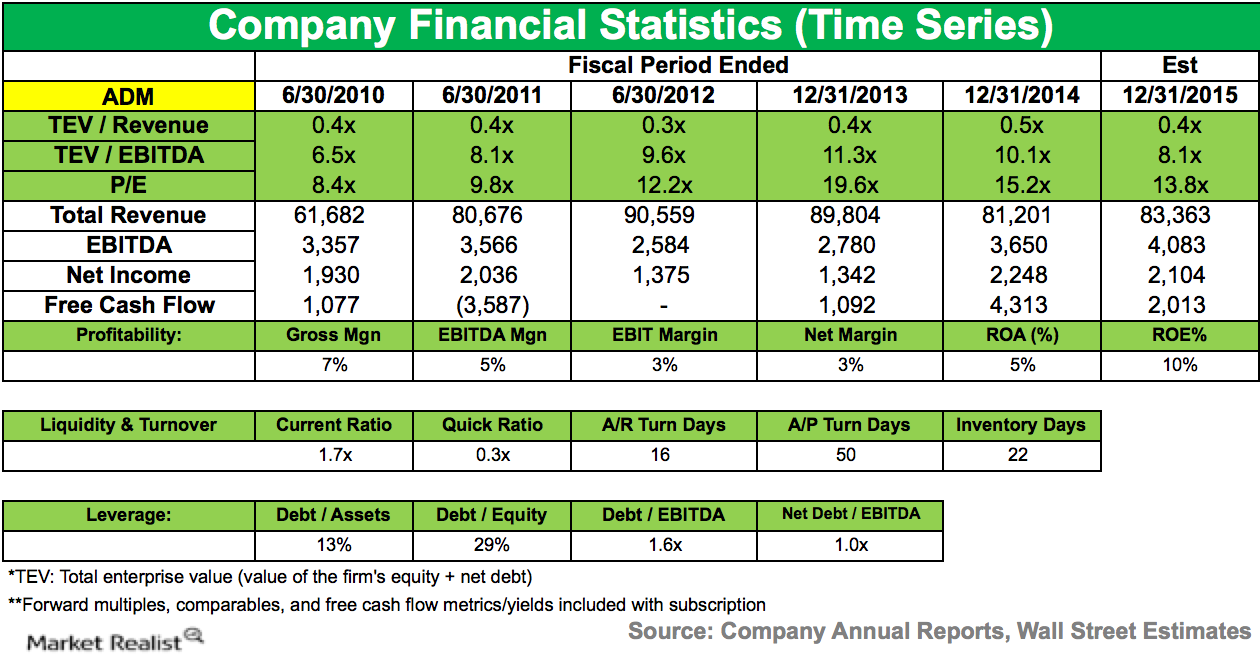 Citadel Advisors and Archer Daniels Midland
During 4Q14, Citadel reduced its stake in Archer Daniels Midland Company (ADM). Citadel held 289,262 shares of ADM in 4Q14, down from 4,561,997 shares in 3Q14. The position accounted for 0.018% of the fund's 4Q14 portfolio.
Article continues below advertisement
Article continues below advertisement
About Archer Daniels Midland Company
The Archer Daniels Midland Company is a processor of oilseeds, corn, wheat, cocoa, and other agricultural commodities. The company also manufactures protein meal, vegetable oil, corn sweeteners, flour, biodiesel, ethanol, and other value-added food and feed ingredients.
ADM is refocusing on higher margin businesses
In 4Q14, ADM completed acquisitions of WILD Flavors and Specialty Commodities for $2.9 billion in a move "to increase returns and reduce earnings volatility through the growth of our specialty ingredient offerings." With these acquisitions, the company added a fourth reporting segment to its business. The company's segments now include:
Oilseeds Processing
Corn Processing
Agricultural Services
Wild Flavors and Specialty Ingredients
Article continues below advertisement
ADM to sell its cocoa and chocolate business in two different deals
ADM's main focus is on more profitable businesses. In December 2014, the company agreed to sell its cocoa business to Olam International for $1.3 billion. Cocoa is a very volatile business, where prices swing due to concentrated production. The deal is expected to complete by 2Q15.
In a separate deal, ADM agreed to sell its chocolate business to agricultural conglomerate Cargill for $440 million. This deal came as many cocoa processors are engaged in a price war due to the higher prices for the commodity. This rise in prices has resulted in increasing costs for food and candy makers. Last year Hershey (HSY) and Mars raised their prices for chocolate products.
The European Union is investigating the ADM-Cargill deal in more detail, as the deal may increase consolidation in the industry.
Fourth quarter results
For the fourth quarter of 2014, adjusted earnings per share (or EPS) were $1 per share versus $0.95 in 4Q13. Revenue fell 13% to $20.9 billion.
In 2014, good weather conditions led to record corn and soybean production in the US. It resulted in 15% lower input prices for ADM, improving results for grain-trading and processing businesses. The improvement was offset by a decline in crop prices. Lower fuel prices also hampered margins for the corn-based biofuel, ethanol.
For full-year 2014, revenue was $81.2 billion versus $89.8 billion in 2013. The company increased its quarterly dividend from $0.24 to $0.28 per share.
ADM has exposure to the Consumer Staples Select Sector SPDR Fund (XLP) and the iShares MSCI Global Agriculture Producers ETF (VEGI). ADM accounts for 1.8% and 7.8% of XLP and VEGI, respectively. XLP also holds positions in General Mills (GIS) and Mondelez International Class A (MDLZ).