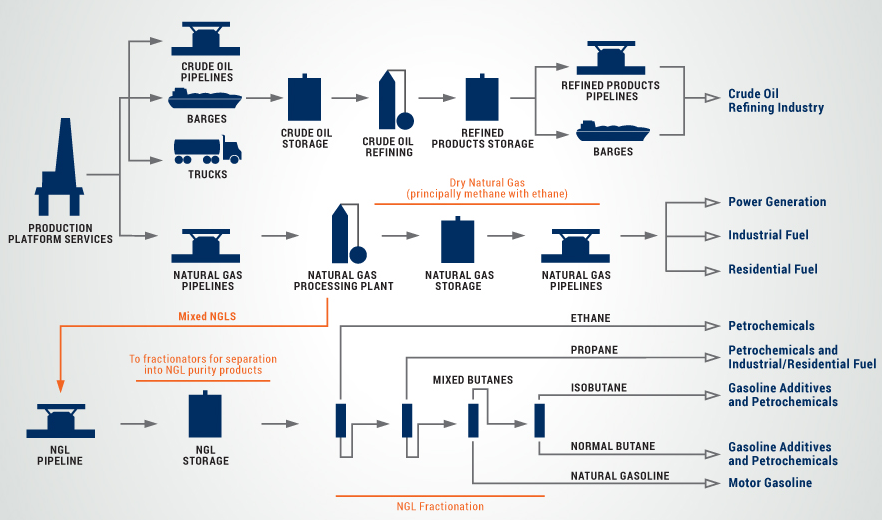 What is XLE? Exploring Midstream Energy Company Exposure
Midstream companies
The midstream segment of the energy sector involves the transportation of oil and natural gas, whether by rail, barge, truck, tanker, or pipeline. It also involves the wholesale marketing of fuels, such as crude oil, natural gas, or other refined petroleum products. Rail, ship, pipelines, and other forms of transport can move crude oil from production sites to refineries or downstream players (which we'll discuss in the next piece of this series). Plus, natural gas pipeline networks, which are scattered all across the United States, aggregate gas from different shales and natural gas purification plants to deliver it to customers—like industrial companies and utilities.
Companies in the midstream sector that are included in the XLE portfolio include Kinder Morgan (KMI), Oneok (OKE), the Williams Company (WMB), and Spectra Energy (SE). These four companies make up about 10% of the XLE ETF and consist of most of its midstream exposure.
The Alerian MLP index includes a number of US energy midstream players. For more information on MLPs, please check out our Master Limited Partnerships page. One of the biggest holdings of AMLP, other than KMI, is Energy Products Partners (EPD). The image below shows EPD's midstream operations.
Article continues below advertisement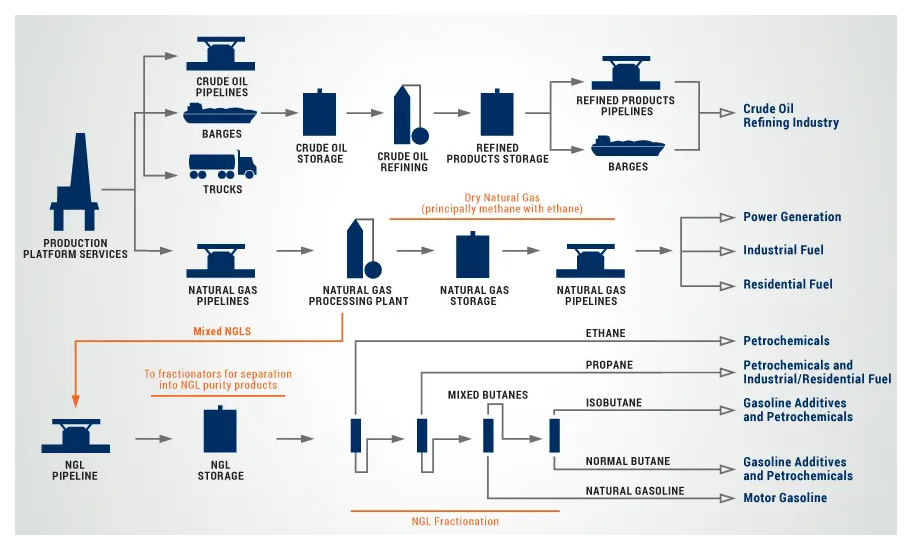 Outlook
The midstream segment of the energy sector is much less exposed to spot commodity prices, but it's not completely immune. According to the Energy Information Administration, or EIA, midstream asset growth may slow in the near term as volumes decline due to very low prices. Gas production growth is projected to slow to 3.1% 2015 from 5.1% in 2014. Still, this is nothing compared to the decline in revenues that upstream energy companies will see in 2015 and 2016.
In the longer term, natural gas and liquids production growth is driving growth in midstream infrastructure in the United States. The growth of NGLs—natural gas liquids—will probably add to this growth in the next decade. Plus, due to the Clean Air Act, natural gas power plants are taking market share from coal plants that will eventually be decommissioned. Lower natural gas prices and tighter emission standards will continue to drive residential use, which will drive pipeline expansion.
Key indicators in this industry include the production levels of natural gas liquids, butane, propane, and methane. Heating degree days and weekly natural gas storage are also indicators here, as well as rig counts with respect to oil production quantities.
In the next piece, we'll explore the Downstream and Energy Services industry components of XLE.